Occasionally we put Toren in the Baby Bjorn between feeding and sleeping:
He's small enough at this point that his arms are forced straight forward out of the Bjorn when he's in it.  After a few times of him riding around inside the Bjorn facing forward, I started to feel like he was the one controlling me.  This got me to thinking that he's kind of like a Dalek (from Dr. Who for those who aren't sci-fi savvy).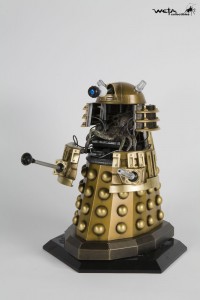 So, we now call this "Dalek mode".  I'll usually let him hold my fingers and I'll walk around saying, "Exterminate! Exterminate!" (it's funny if you know Daleks).
A better comparison is probably the little alien inside a human from Men in Black, but I don't know the name for that alien and it's not quite as memorable as the Daleks: