We were surprised at how many things we had been able to fit in at this point.  If you've been reading these posts chronologically, you'll know that we skipped two attractions for various reasons.  This was our make up day.  We started out with a visit to Abbey Road, the recording studio made famous by The Beatles for their album they recorded here.  There isn't much to see there, but we stopped by anyway: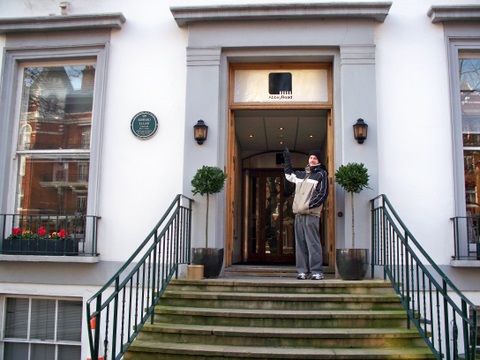 From Abbey Road we returned to Westminster Abbey.  Westminster Abbey is a working Church of England Church and the location of British coronation ceremonies (and has been for centuries).  Unfortunately you aren't allowed to take photos inside (though I snuck a couple again).  Our primary interest in visiting the Abbey was to make another pilgrimage of sorts – to the grave of Charles Darwin.  Steve and I are both ardent evolutionists, so we had to pay homage.  In honor of our visit, Steve wore his Project Steve shirt to the Abbey: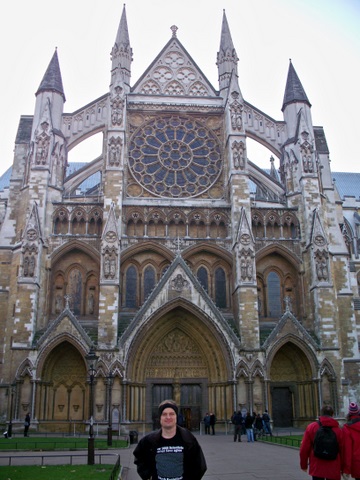 The Abbey is a functioning church, but it's also kind of creepy.  I really don't understand the bizarre obsession of people to be buried inside churches.  I don't really mean to be mean about this, but it almost seems as though the idea is to change the object of veneration from some supernatural entity to those entombed inside the building.  I didn't actually get creeped out by the fact that I was walking around inside a building that literally has thousands of dead people scattered throughout the walls and floor, but it does seem kind of bizarre to me  (if any readers have any thoughts on this, I'm interested in what you think).  Anyway, access to Westminster Abbey costs a pretty penny as well – about $20.00, but it does include an audio tour that is pretty good.  Easily the most amazing part of the building is the sheer size.  As soon as you walk in and see the soaring ceiling you can't help but be impressed.  As I couldn't take pictures here, I stole some from other people who did.  Here's a shot of the main altar that shows the height of the ceiling: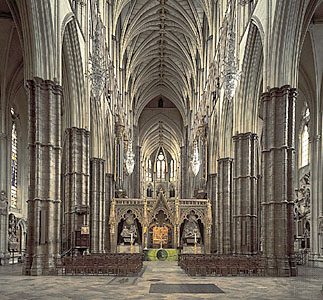 Surrounding the main altar are a number of smaller chapels, most of which are filled with dead people – er, rather, monuments and gravemarkers to dead people that include the dead people inside; so, yeah, dead people.  A number of monarchs of England are buried here, though monarchs post George II are no longer buried here but in some other church.  The architecture, even of the tombs, is pretty remarkable.  The tour takes close to 2 hours if you listen closely to everything.  It winds its way around the church, but also out into several other areas where those who run the church live.  There is also a museum, though quite small, that is part of the tour.  I did snap a picture in the museum as it included a wax model of my famous ancestor, Lord Nelson (who is buried in a different chapel in London):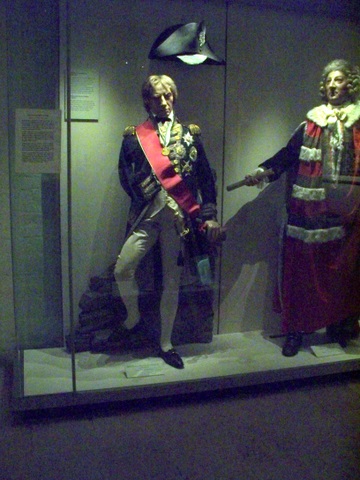 We knew about two famous people who are buried at the Abbey, Newton and Darwin, but were surprised to also learn that George Frideric Handel is as well, as is Winston Churchhill.  Here's a picture of Darwin's grave (stolen from someone else on the internet):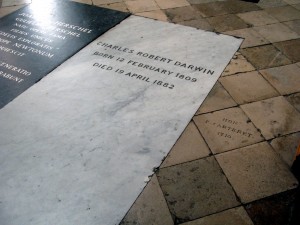 He is buried close to Newton and several other famed scientists.  Despite the creepiness of the thousands of bodies around the place, it is a site to see – and of course we had to pay homage to Darwin.
From Westminster Abbey we headed back to Trafalgar Square were we had lunch in The Crypt, which is a cafe in the former crypt of St Martin-in-the-Fields church.  We then went to the National Portrait Gallery, which is right across the street from The Crypt.  The Portrait Gallery includes paintings of many famous Britons, from the aristocracy to scientists, like Darwin, Huxley, and Newton.  Probably the best part about the gallery for me was the pretty good history given of the aristocracy as you saw their paintings.  I learned a lot about past Kings and Queens as a result.  We didn't stay too long at the National Portrait Gallery (about 2 hours) as I had arranged to meet one of the conference organizers at the British Library to discuss some research projects.
We met my colleague and talked shop for a while over tea (okay, we didn't really drink tea, but we called it "tea").  Afterward we went downstairs to see some of the famous manuscripts and documents the library has, including: 2 of the 4 remaining copies of the Magna Carta, Gutenberg Bibles, Codex Sinaiticus, Codex Alexandrinus, some samples of Shakespeare's writing, Leonardo DaVinci's notebooks, original song lyrics by The Beatles on various scraps of paper, and thousands of other famous documents, including a wide variety of religious books and manuscripts.  My colleague, who goes to the British Library at least once a month, didn't actually know where the room with the collections was and had never seen any of the stuff inside.  So, she accompanied us to see the Magna Carta before she had to run to a different meeting.  Intriguingly, we spent a couple hours checking out all the documents and saw just one or two other people the whole time.  It's pretty amazing to think that these treasures aren't widely visited.
After the British Library we headed back to Hammersmith, stopped for dinner at another pub, and called it a night.