This was our last day of touring around London.  As we had visited all of the major attractions that we really wanted to see in the previous days, we opted for two less visited attractions.  We started off the day with a visit to the Royal Observatory in Greenwich.  For those who don't know, this is the location around which our timekeeping system is based (i.e., Greenwich Mean Time).  It is also the prime meridian (line of longitude).  The site includes several museums and an observatory.  The museums are nice as they explain the importance of keeping time (for global navigation) and the development of the instruments and astronomical charts required to keep time and determine longitude at sea (latitude is easier).  The observatory is well-placed as it sits on a hill overlooking the Thames.  On one of the spires of the observatory is a red ball that drops every day at 1:00pm.  This allowed ships leaving London to set their clocks so they would know the exact time.
We snapped a few pictures while there: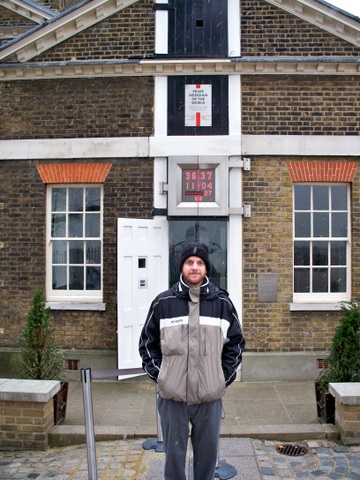 Here's the view from the observatory:
It actually started to snow on us while we were at the observatory.
From here we headed to the Imperial War Museum, which includes really great exhibits on WWI and WWII.  It was fascinating to read about the wars from a British perspective, as I have only ever read about them from a U.S. perspective.  The devastation suffered by the UK during WWII under the bombardment by Germany was really stunning.  There was a special side exhibit on children in the war.  Thousands of children were sent out of London and other big cities during the war to live with families in the countryside as it was safer there.  I also found my favorite picture of Jesus and the Virgin Mary in this museum (we saw hundreds of these in the National Gallery):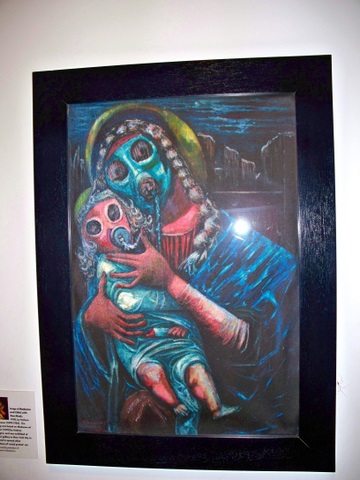 As was the case with most of the museums we visited, we simply ran out of time here and didn't see everything, but we saw quite a bit of the museum (this one is also free).  We left a bit before closing as we had plans for the evening – an English Premier League football match!  Having played soccer my whole life, one of my dreams has always been to attend a football match in Europe where the fans really get in to the game with chants and cheers.  I've been to a couple NFL games, to NBA and MLB games and I've never seen anything like I did here.  But before I describe the game I have to describe the ordeal to get tickets.
Premier League tickets are hot commodities and they sell out quickly.  However, they only list tickets about 2 weeks in advance of the game itself, so you really have to be paying attention to the sales to get a ticket.  I signed up for email notices from the ticket website to make sure I was notified when the tickets went on sale.  As soon as I received the email notifying me that tickets for the 16th of December were on sale I hurried to the website to see what was available.  There were several matches that day, but only a couple in London.  The obvious choice was the Chelsea vs. Portsmouth match.  Chelsea is the top team in the league at the moment; Portsmouth is literally the very bottom team.  Unlike games here in the U.S., in the UK you can't just buy a ticket.  Because of hostilities between fans (which became very understandable during the game) you have to buy tickets for a specific team.  You can either buy tickets for Portsmouth or tickets for Chelsea, but rarely are there just "general admission" tickets.  Why?  Because the fans are literally sectioned off from each other.  To insure that people purchasing the tickets are really fans of that team (and not just someone trying to get into the opposing fans' area) you have to become a member of the team's football club.  When I got the email, Chelsea tickets were no longer available, but Portsmouth tickets were (apparently their fans didn't want to travel to see their last place team play Chelsea).  I tried buying tickets directly, but the site insisted that I provide a Portsmouth Football Club ID, so I had to join the Portsmouth Football Club (luckily it was free).  I then purchased tickets for Steve and I.
When we arrived at the stadium, it quickly became apparent that they don't joke about security here.  The Portsmouth fans had a completely separate entrance that was lined by police and security officers – there were probably 40 or 50 officers guarding the entrance.  When we headed towards our seats, we then noticed two things: (1) no one else was sitting down yet and (2) the Portsmouth section was literally cordoned off.  Portsmouth fans were situated in a corner of the Stamford Bridge stadium and on both sides there was a barrier of three seats that was covered and unavailable for people to sit in.  Additionally, both sides were lined with security officers.  You can see them in this panoramic shot I took – they are all wearing the yellow vests:

We later realized why no one was sitting down before the game started – they were all down below the stands getting drinks.  Apparently you can't bring alcoholic drinks up into the stands, so before the game and during half-time, everyone heads below to get liquored up.
We took a couple additional photos: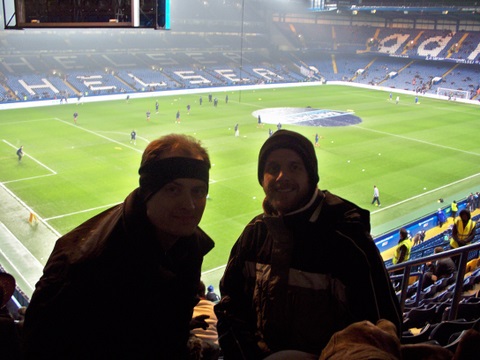 And this last one that shows how serious they take football in the UK: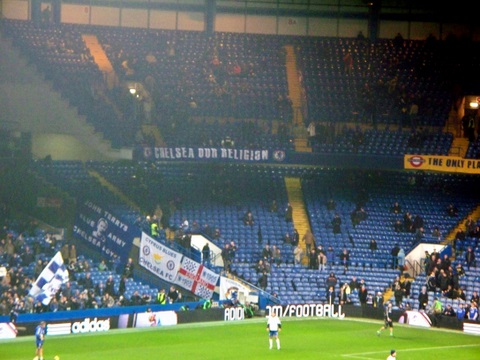 I was already duly impressed with what we had seen, but then the game started and so did the chants.  Wow!  Steve and I couldn't believe what we were hearing.  Given the accents, we didn't know for sure what all of the chants were, but I have since looked some of them up.  The most common one was this one:
Play up pompey
Pompey play up
We really couldn't understand what they were saying, but it makes sense now. You can hear some of the chants here.
That first chant is relatively benign, but they got so much more… um, interesting. It quickly became apparent why the security is so important – the chants aren't always directed toward the players; they are often directed toward the fans of the other team:
Hello hello we are the portsmouth boys
Hello hello we are the portsmouth boys
And if you are a scummer fan surrender or you'll die
This still one of the more benign chants.  Frank Lampard, one of Chelsea's well-known players, took a corner kick in front of Portsmouth and joked with the Portsmouth fans, who quickly responded with:
Lampard is a wanker
Lampard is a wanker
Then we heard some of the more vicious chants, like this one:
If you all hate scummers,
All hate scummers,
All hate scummers clap your hands.
If you really f*&king hate them clap your hands,
If you really f*&king hate them clap your hands,
If you really f*&king hate them,
Really f*&king hate them,
Really f*&king hate them clap your hands.
That was just one of the many. They also went after the wife of one of the famous Chelsea players. Ashley Cole is married to Cheryl Tweedy Cole, a well-known musician in the UK, and they said some pretty nasty things about her (which I really shouldn't repeat on here). Anyway, you can see more of the chants here.
As I noted at the outset, Portsmouth is dead last in the tables right now.  So it wasn't a surprise when Chelsea scored first.  But Portsmouth actually scored to even up the game and you'd think everyone in the Portsmouth section had just wone a billion pounds – they went crazy.  The guy sitting next to me hugged me and the guy next to him gave me a high five.  Since we were sitting with Portsmouth we had to cheer, and it was pretty easy to get caught up in the excitement, so Steve and I both cheered like wild men!  It was actually pretty fun.  Portsmouth eventually conceded a penalty kick and lost 2 to 1, but it was a great game.
Steve said at the end of the game that he'd never forget this experience.  I concur – it was one of the most memorable experiences of the trip.