The first stop on our cruise was actually not in Greece but in Split, Croatia.  Why, you ask?  Because it's about half way between Greece and Italy.  I created a Google Map of our entire trip (flights and cruise), but you can see the route for our cruise ship here (in green):

View Europe Trip – 2010 in a larger map
And who wouldn't want to go to Croatia, right?  As with Venice, I learned a number of things about Croatia, like the fact that the name "Split" actually comes from a plant (the Spiny Broom) and has nothing to do with the English word "split".  Split is the second largest city in Croatia and the largest in Dalmatia.  Like many of the places we visited, Split was ruled by the Venetians at one time.  Also, for those who don't know, Croatia is part of the former Yugoslavia.
Our ship arrived early, 7:00 am, so our tours were early as well.  This was one of two days when we were not all together for the tour.  Gary, Rosemary, and Steve took a walking tour of historic Split, which focused on Diocletian's Palace, admittedly the most famous attraction in Split.  Suzy, Brent, Ethan, Debi, Toren, and I visited two different sites: Salona, a Roman settlement (Split was also conquered by Rome) and Trogir.
On our way from the port to Salona I snapped a few pictures. This first one is of a high-rise apartment building built during the communist era: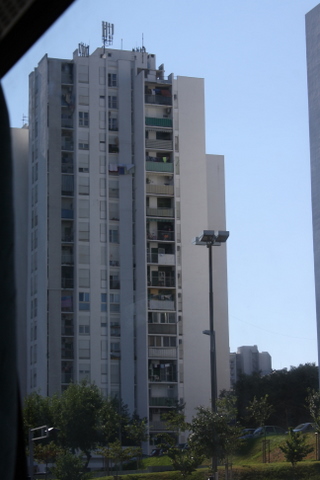 For those who don't know, Yugoslavia was kind of like an independent satellite of the USSR.  It was technically independent, but practically not and was self-governed by communists.  I've always wanted to get a picture of the apartments constructed in communist countries in the Eastern Bloc as I've heard they were functional but spartan.  I think that's pretty accurate.
Perhaps of more interest to everyone else is the next photo, which is of a Roman aqueduct: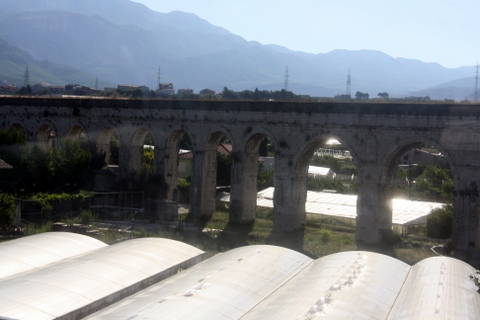 When the Romans conquered Split, they built this aqueduct, which was still in use until quite recently.
Salona is about 20 minutes from Split, inland.  It was originally an Illyrian settlement, but it was taken over by the Greeks and then the Romans and eventually became the capital of the Roman province of Dalmatia.  Today, Salona is a ruin, with only about 16% having been excavated.  Much of the original building material has been scavenged over the years for other construction projects.  Our guide walked us through the area, pointing out various Roman structures.  However, I wasn't able to hear a lot of what was going on.  Toren decided he wanted Debi's audio receiver and when we tried to take it from him, he refused: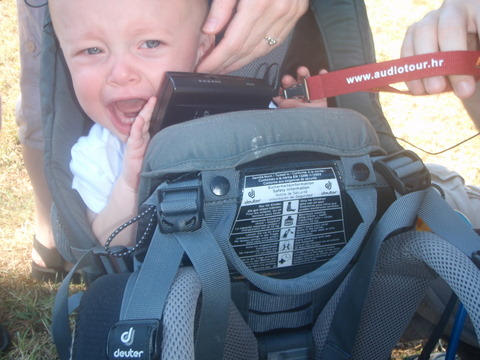 Apparently he really wanted to hear what the guide had to say (not really, of course; Debi just let him hold it and put the headphones on then followed me around).
The size of the ruin isn't apparent when you first walk in to the excavation, but a little further in it becomes apparent that Salona was once a very large town: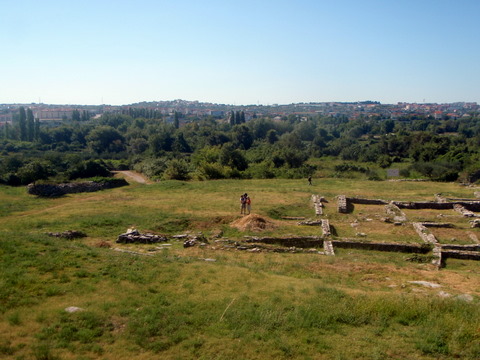 Here's Debi in front of some ruins: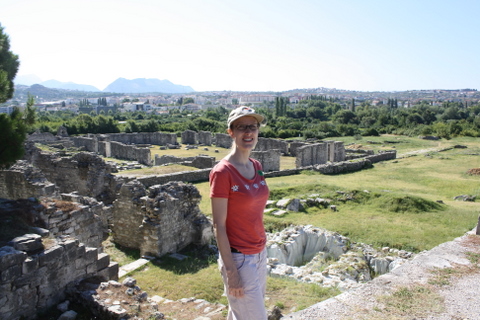 And here are Toren and I by a doorway among the ruins: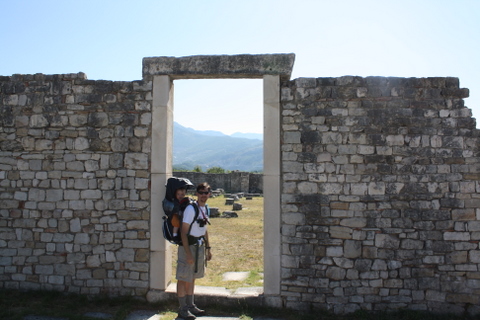 We spent about 2 hours at Salona, then got back on our bus and drove about 30 minutes to Trogir, which is more of a resort town and is even referred to as "Little Venice" because of its architecture, the fact that it is right on the water, and because it has many buildings built using Venetian architecture as it was controlled by the Republic of Venice as well.  Here's Debi in front of Fortress Kamerlengo, a castle from the 15th Century that was built by the Venetians: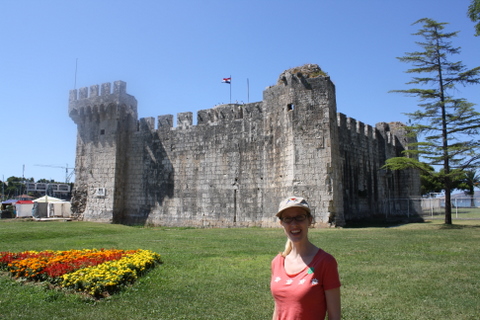 Trogir is also famous for its churches.  Many of them have bells and for some reason they are not coordinated in any real fashion.  So, around noon, the bell clanging is a true cacophony.  Anyway, the Fortress lies at the end of this really remarkable boardwalk: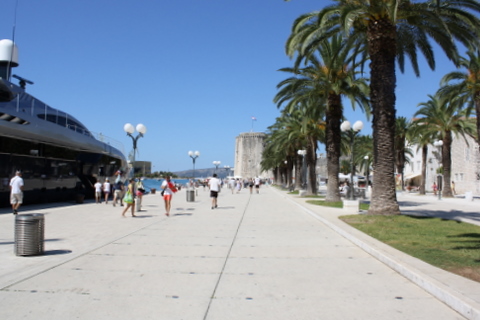 If I were looking for a place to vacation with the intention of just relaxing near the water, I'm thinking Trogir would fit the bill.  It's not very expensive, but beautiful and very laid back, aside from the bell situation.  And it does kind of live up to its nickname of Little Venice with alleys like this: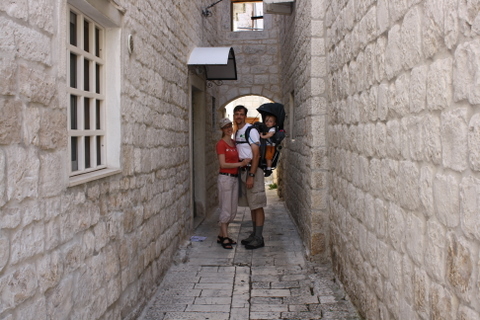 While we wandered around Trogir we found these pretty flowers, which Toren really liked: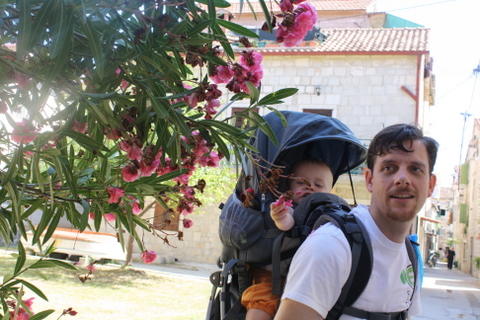 After a couple hours in Trogir (we got some gelato here, too, and it was about as good as that in Venice), we headed back to the ship (which left Split at 2:30 pm).  We grabbed a quick lunch in the buffet restaurant, then headed back to our cabin.  Some of the other people in our party went swimming, but we crashed.  Too many days with too little sleep caught up to me.  Toren, of course, needs naps, and Debi loves them.  So, we slept.  In fact, we slept from just after we ate lunch (around 2:00) until about 6:00, which was a half hour before dinner.  We got up with just enough time to shower before dinner then eat again.  Yes, folks, this is cruising: eat, sleep, shower (got to wash off the crumbs from the previous meal), then eat again!  Uggh!  I know, I shouldn't complain.  But that is the one thing about cruising that scares me – eating too much.
Anyway, dinner was great, as was expected.  We then went back to the room (dinner, with its three courses, always took from 6:30 until about 8:30) and played with Toren until he fell asleep.  I stayed up taking a few notes for the blog, then we went to sleep as well.