My university was kind enough to fund another trip to England for a workshop (put on by the NSRN).  This time the workshop was in Cambridge (I was in Oxford last year).  I had a bit of a scare last year with a flight being delayed when I was leaving, so I decided to arrive a couple days early this time and leave right after the workshop.  I flew out on the 10th.
I arrived in England early on the 11th.  Having grown familiar with the transportation system last year, I had my route to Cambridge planned: a train from Gatwick to Victoria Station, the subway from Victoria to King's Cross, and a train from King's Cross to Cambridge.  It wasn't cheap, but it was quick – about 2 hours is all.  From the train station to where I was staying (Clare Hall) was a couple of miles.  So I took a cab.  The workshop organizers had arranged for me to stay at Clare Hall while I was there.  I checked into my room (which was nice and included a full kitchen), then went for a walk around Cambridge, which is quite walkable.
The first photo I took was obligatory given my experience last year.  It hadn't rained, yet the street was wet: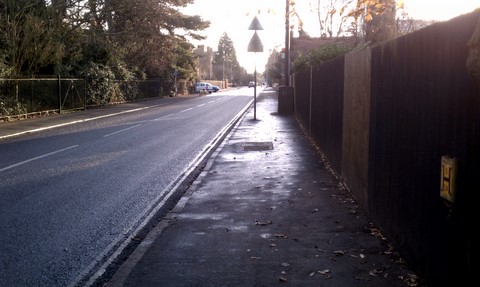 That's just how England is.
I found a path through King's College, which is one of the more famous colleges.  I snapped these photos on the way through the college: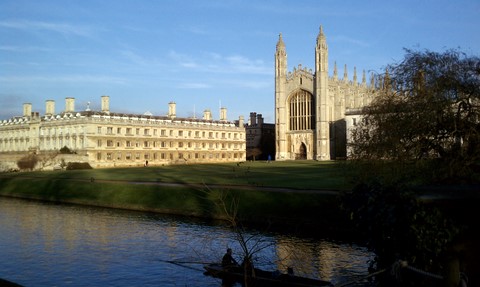 The path I followed took me through "The Backs", which are basically green fields behind the colleges that are undeveloped.  Many of the colleges abut the river, "Cam", that runs through Cambridge (the river is the source of the name of the town).  You can go "punting" on the river, which is basically boating in a flat bottomed boat.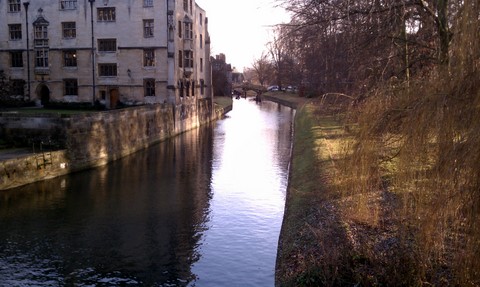 From King's College I basically just wandered around Cambridge, walking through the city center and viewing the shops.  I stopped at a small cafe for lunch and picked up some groceries, then headed back to my room as I was quite tired.
That's about it for day 1.