We got up somewhat early on our second full day in Jacksonville and headed to the pool, but it was short-lived as Toren was still tired and needed a nap.  He and Debi napped all morning while I read the news.  We then went for lunch where Toren showed off his new spell-casting abilities:
Toren has seen the first 6 Harry Potter movies and now, whenever he has something resembling a wand in his hands, he runs around casting spells.
After lunch we headed to the Museum of Science and History in Jacksonville where we met up with my buddy.  Before we went in I took some pictures of Toren I'll post over the next few days, but here's a sample of Toren cuteness: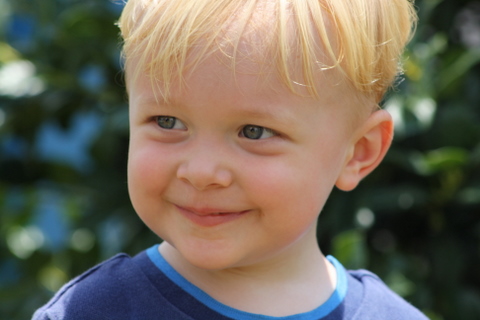 We spent most of the afternoon there and Toren seemed to really enjoy it.  Debi was kind enough to watch him most of the time so I could talk "shop" with my buddy.  Here is Toren "digging" for dinosaur bones at the Museum:
We then went out for dinner before heading back to Tampa.  With good weather and no traffic, we made the trip in record time – 3 hours and 15 minutes.  And Toren slept the whole way.
One more thing I didn't mention that is worth noting.  On our way up on Friday, all three of us were "plugged in."  I was listening to a podcast on my phone with headphones while simultaneously running my GPS for directions.  Toren took Debi's phone and watched a couple of movies.  And while he did that, Debi worked on her computer.  I remember being "plugged in" when I was a kid meant listening to my portable CD player in the car.  Now, Toren, at just under 26 months, is able to choose which videos he wants to watch on Debi's phone.  How long until we do away with external microprocessors and simply start embedding them?