I regularly collaborate with scholars around the world. One problem that arises from that, however, is that we have to coordinate time zones. As a result, I have picked up a couple of really nifty features of Google Calendar that manage that for me. Here are the two I use most frequently.
Add a Meeting with a Different Time Zone
The first trick is actually really simple, but it means I don't have to look up time zone differences before I add a meeting to my calendar. Imagine I have just agreed to a meeting that a colleague in Norway organized. That colleague tells me that we are going to meet on August 23rd at 4:00 pm Oslo time. I could search for the time in Oslo, compare it to my time in Florida, and then try to enter the correct meeting time into my Google Calendar. But that is way too much work. Instead, I can just enter the meeting into my calendar as I normally would but make one important modification.
First, I click on the day and time when I want to enter the meeting on my Google Calendar: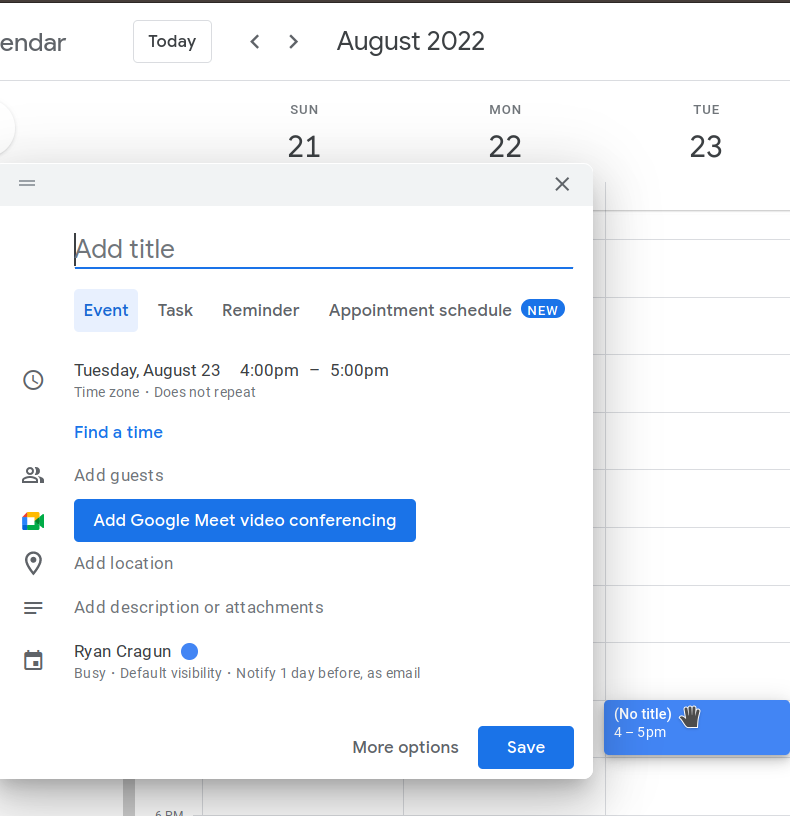 I fill out the topic of the meeting, of course, but the key to adding this correctly is just below that, where it says "Tuesday, August 23 4:00 pm – 5:00 pm". Right below that it says "Time Zone."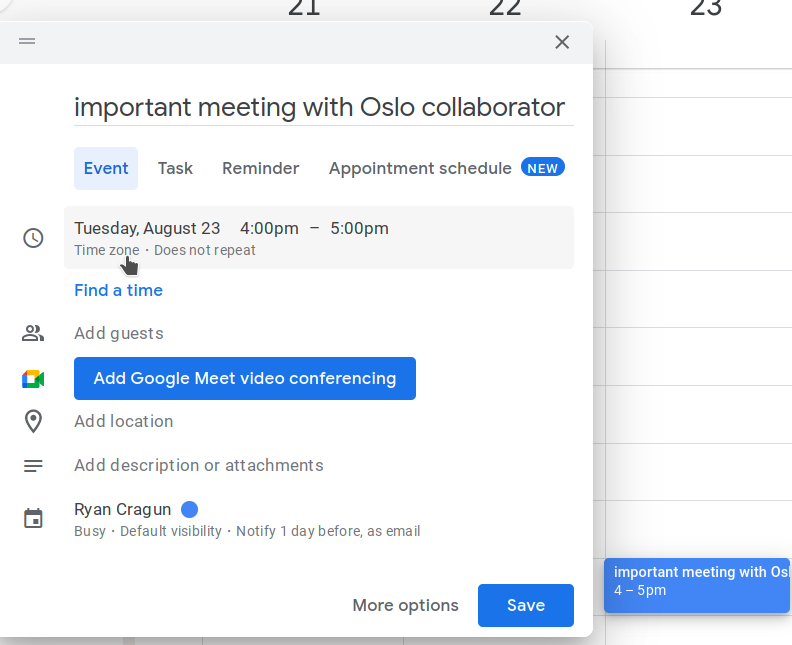 Until recently, I had never messed with that. But, if you click on that spot of the new calendar Event creation window, you'll see that you can change some options and if you mouse over the now much bigger text that says "Time zone" you'll see that you can click on it: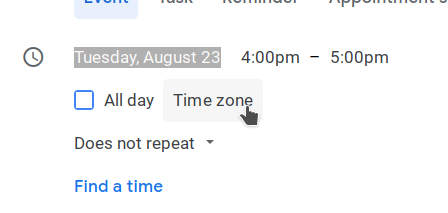 If you do click on "Time zone," you'll see this option: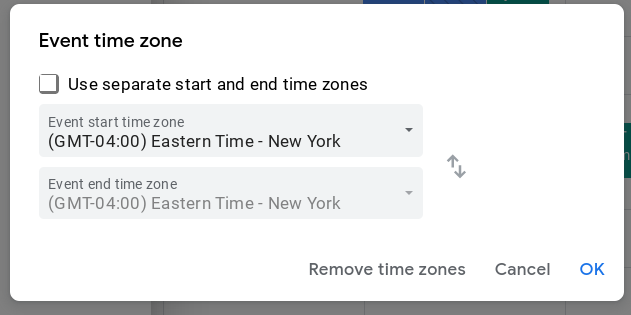 Here's where the magic happens. In that first drop-down box, you can select the time zone for the meeting: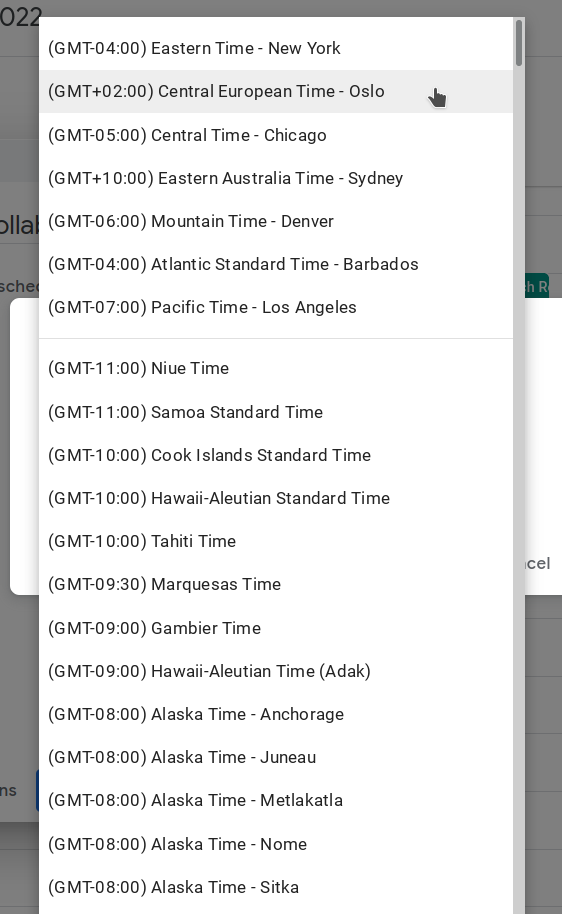 If you select that time zone and hit "OK", Google Calendar automatically adjusts the time in your calendar so the meeting is scheduled for the correct time for your time zone. When you get back to the add Event box, you won't notice the change, but click Save in that dialogue and then check your calendar: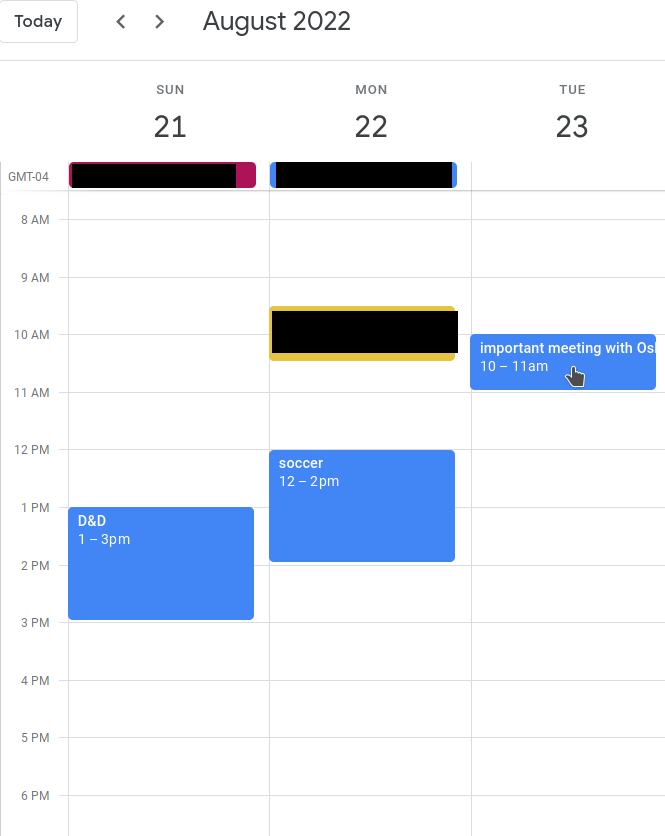 If you look, the meeting that I knew was at 4:00 pm Oslo time is now correctly scheduled in my calendar for 10:00 am Eastern time. Using this little trick will save you from having to figure out time differences. Just enter the meeting time in the time zone you know and Google Calendar takes care of the rest.
Sending Calendar Invites
The other really nifty time zone trick in Google Calendar is to send out meeting invites directly from Google Calendar. Let's again pretend that I have a meeting on August 23rd with collaborators around the world. I know the meeting is at 4:00 pm Oslo time, so I enter that into my calendar as noted above, but before I hit "Save," I go down to where it says "Add guests":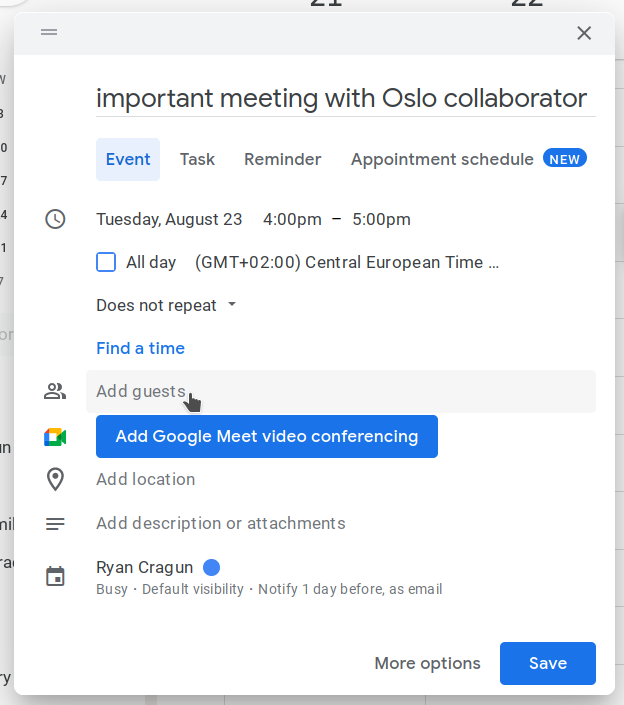 You can then enter the email addresses of the other meeting participants there: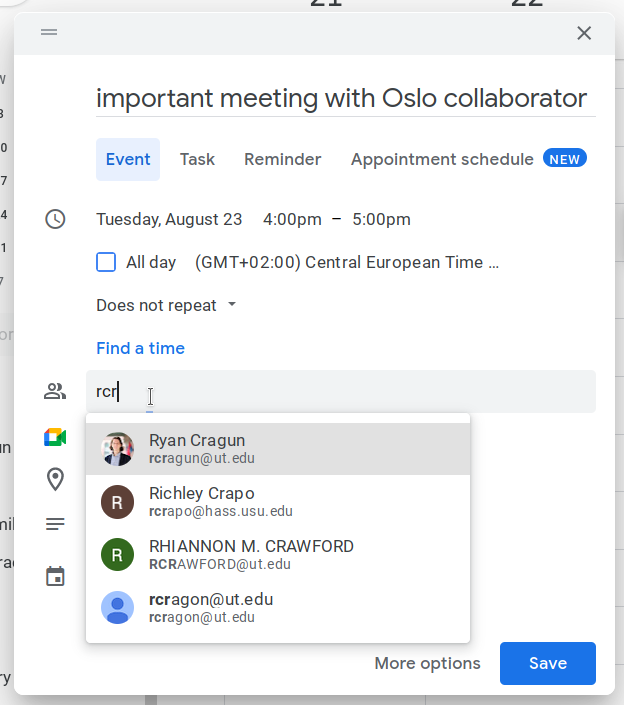 I entered one of my other email addresses. Now, when you hit "Save," you'll get this prompt:

The advantage of sending the invitation email through Google Calendar is that it automatically adjusts the meeting for the other person to their time zone. So, if I have a collaborator in Australia, one in California, and one in Oslo, I can send a single invite and, if they accept it, Google Calendar manages the time zones for them, adding the meeting to their calendar at the correct time relative to their time zone.