I'm a college professor. As a result, I have access to a number of research resources that most people don't have, including my university's library, which subscribes to numerous databases to help me and my colleagues (and our students) with our research. I was looking for some very specific information from the Los Angeles Times for a research project: obituaries on a very specific date.
I was hopeful that my library's databases would provide me with that information. I did an initial search for the Los Angeles Times and my library's search engine said that we have access to the newspaper from 1886 through the present: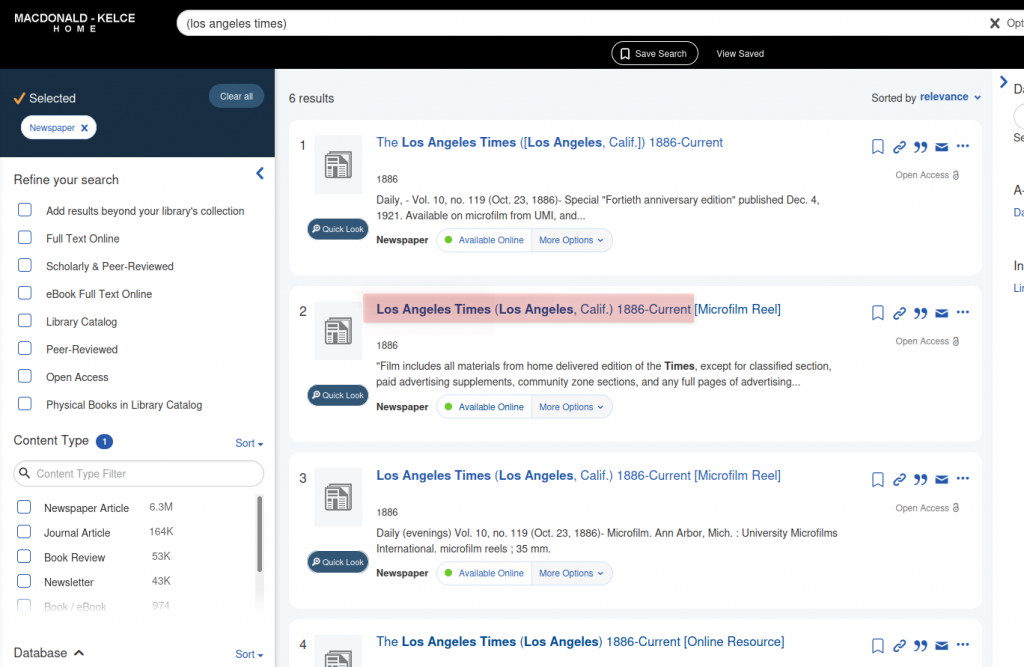 That seemed like exactly what I needed. I clicked on the link and it took me to Nexis Uni. Having tried to use the Nexis Uni database in the past, I was immediately disheartened. It's not a friendly user interface at all. But I needed to find this specific information, so I tried to use the horrible Nexis Uni interface to see if I could find it.
When Nexis Uni first pulled up, here's what I saw: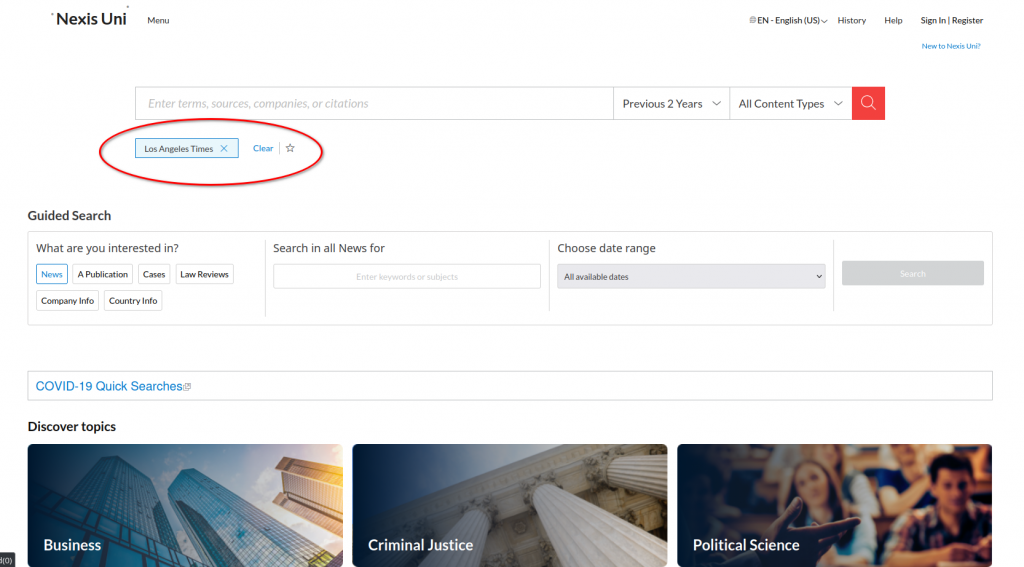 Now, as a human being, I assumed that, since Nexis Uni had already limited my search to the Los Angeles Times, I could just hit the red highlighted magnifying glass to search and it would pull up everything that fits the search criteria at this point. Since I didn't enter any terms in the box, that would mean it would show me every article in the Los Angeles Times during the Previous 2 Years. You know, like any reasonable person would think. Nope. If you click on the search button, here's what you get: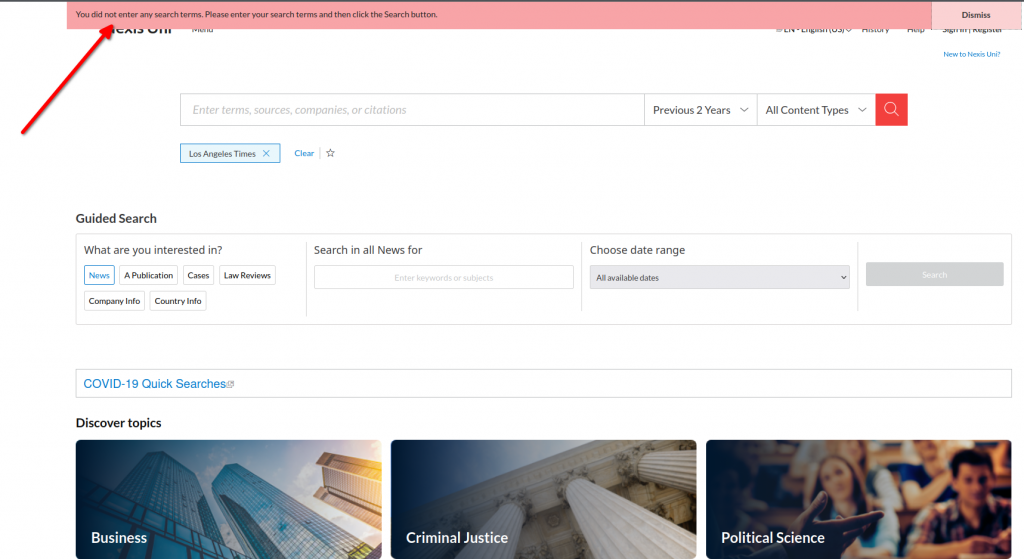 So, to be clear, I can't just look to see everything that was published in the Los Angeles Times during the previous 2-year window. Since I was looking for obituaries published during a very specific time period, I figured I could just narrow down the time period and get the obituaries that way. The obvious way to do this would be to click on the drop-down arrow that says "Previous 2 Years" and change that. You know, again, how a normal human would think.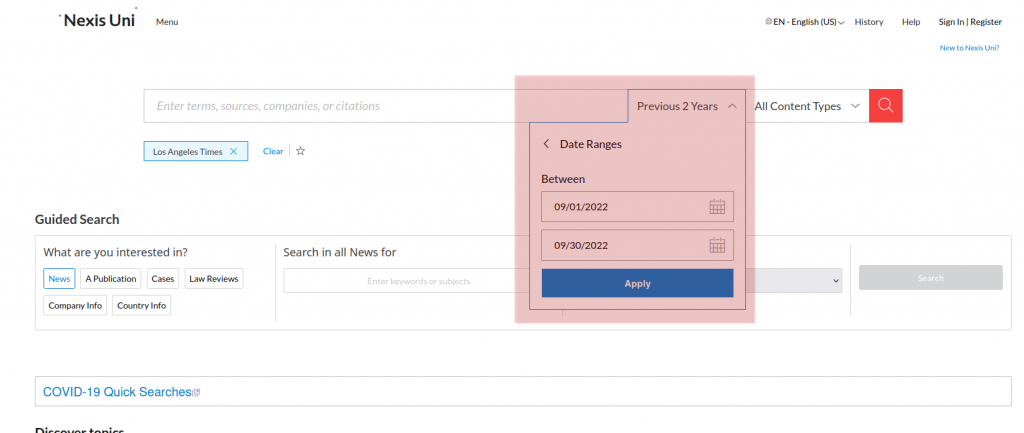 I entered the date range I wanted – the month of September 2022. If I then try to click the search button, I get the same error as above – I haven't entered any search terms. Right. So, I have to actually put something in the search box. I cannot browse issues of the Los Angeles Times. (Who is the idiot behind this database? Seriously!)
I tried searching "deaths" and "obituaries" and ended up only getting articles about famous people who had died, which isn't what I wanted. I want the standard list of obituaries or death notices that newspapers publish. I know the Los Angeles Times has this. It's on their home page in the menu option: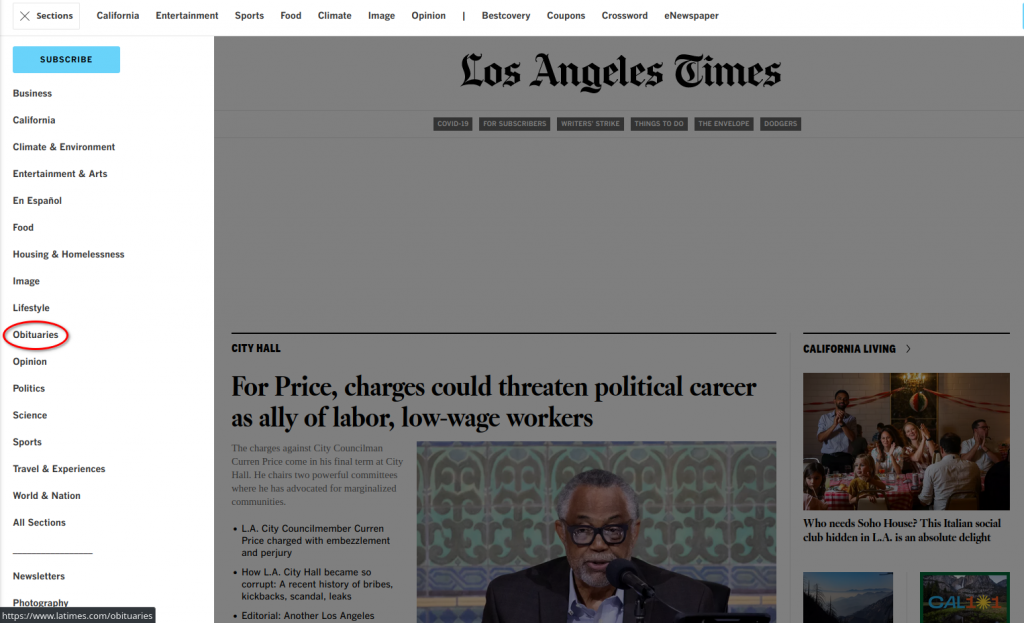 So, I did the next thing that came to mind, I entered an asterisk "*" in the search bar. In computer-speak, an asterisk is shorthand for "everything." Just give me everything! And here's what I got:

The idiots that run Nexis Uni came up short again. They don't allow searches for special characters. So, I tried again. What if I just search for the letter "e," you know, the most commonly used vowel. Maybe that will give me something. Here's my search:

And here are the results:

The first fifteen times I tried doing searches like this, I thought I was an idiot. Maybe I'm the dumb one. Maybe Nexis Uni doesn't have those dates indexed? Maybe I'm asking for too much information from Nexis Uni? Maybe I did something wrong? Then I started experimenting with dates. I expanded the dates to two months. Same thing. Three months. Same. Six months. Same result. Then one year and… Boom: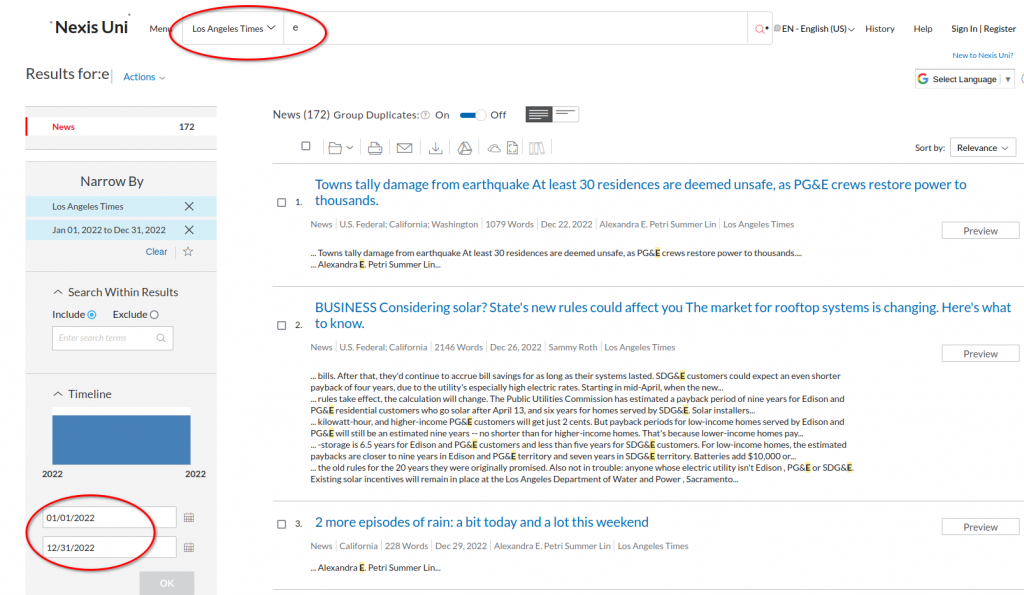 So, the Nexis Uni does have all of that content indexed. BUT. BUT. BUT. The minimum time period you can search for is one (1) year. Yep. You read that correctly. You cannot search for a time period of less than one year in Nexis Uni. WTF? Seriously?!? Yep. Nexis Uni can only search for a minimum of one year of time. Who programmed this database?
Also, just FYI, "e" is the wrong letter to search for as the database will only find stand-alone instances of the letter "e." Instead, search for the letter "a," which does stand alone, and that will return almost every article for the entire year. Great.
I then proceeded to wade through about 10 issues of the Los Angeles Times by organizing the search results by date "newest-oldest."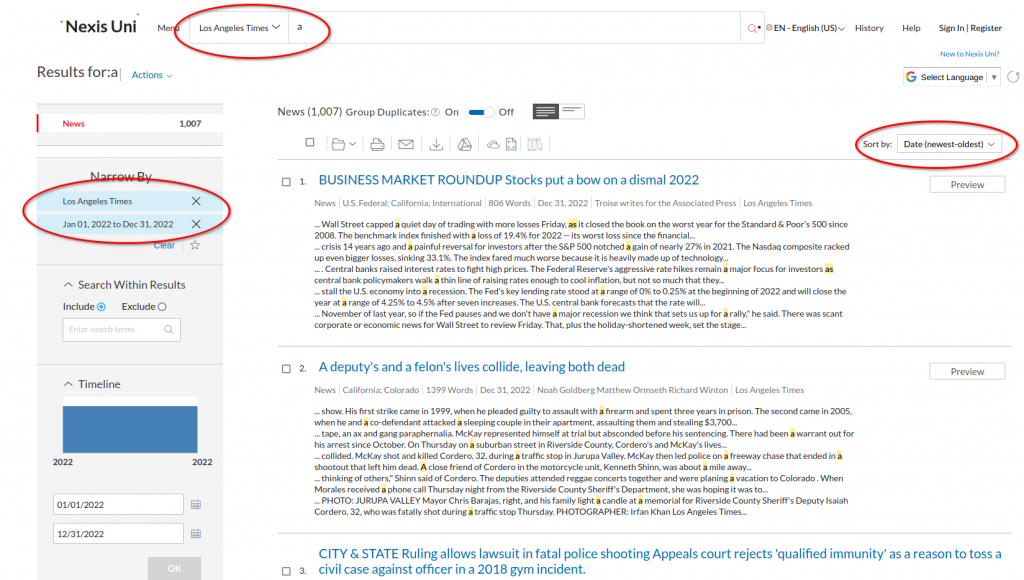 In the process, I realized that Nexis Uni doesn't actually index the obituaries! Yep. That's right. The whole reason I was searching Nexis Uni in the first place was to find obituaries and they aren't even included in the database.
So, let me summarize what I figured out about Nexis Uni.
Nexis Uni won't let you browse issues of newspapers. You have to search for something. (You're best bet is just the letter "a" if you want to find everything.)
Nexis Uni won't let you search for a time period shorter than 1 year. Good luck finding a specific issue in a newspaper. You'll have to wade through thousands of articles to find the issue you want.
Nexis Uni doesn't index or include obituaries.
What's the big takeaway? Having tried to use Nexis Uni in the past for similar searches, I already knew I hated this database. Its user interface looks simple, but there are a bunch of hidden, underlying rules that are not made explicit anywhere. It's nearly impossible to find what you want unless you have the text of a specific article. Then, maybe, you'll get lucky. If you want to browse through issues or do any systematic research on newspapers, Nexis Uni is going to make that extremely challenging!
Honestly, it wouldn't be that hard for the Nexis Uni folks to fix these problems. For instance, let people search for a specific date. If there is some reason they don't want people to search for a period less than one year (I can't imagine what it would be, but let's presume they have some coherent reason), make that explicit. If users can't search for less than a year's worth of articles, when someone tries, give them a prompt that says you can't do that. Or, even better, just don't let them do it and then let them know when they try. And if someone just wants to browse all of the articles in a newspaper, just let them by selecting the relevant dates. There you go. Two easy fixes to these idiotic problems.
In conclusion, my a priori beliefs about Nexis Uni were, once again, confirmed. This is in my opinion the worst academic database I've used. Since this is my opinion and not a statement of fact, this is not libel. If the owners of Nexis Uni happen upon this page and disagree with my opinion, that's fine. What they can do is fix their shitty database. Trying to sue me over alleged libel won't get them very far since I am being very explicit about this being my opinion.