As luck would have it, the latest space shuttle launch coincided with our spring break. The only thing I really, really wanted to do upon moving to Florida was see a shuttle launch in person. So, when I saw a chance for us to go observe a launch, we jumped at it. Given it is our spring break, we decided to turn our trip across peninsular Florida into a day-long excursion.
We left Tampa around 11:00 and drove to Lake Wales, FL to see the Bok Tower Sanctuary. Our neighbor lent us a book of one gas tank trips from Tampa and one of the attractions listed in it was Bok Sanctuary. It's basically a really nice garden with a unique tower. The tower sits on the highest point in peninsular Florida (we've been to the highest point in Florida, Britton Hill). We weren't sure what to expect, but were very pleasantly surprised.
On the way in to the Sanctuary you drive through miles of orange trees. Everyone knows Florida is famous for oranges. Now I know where they grow: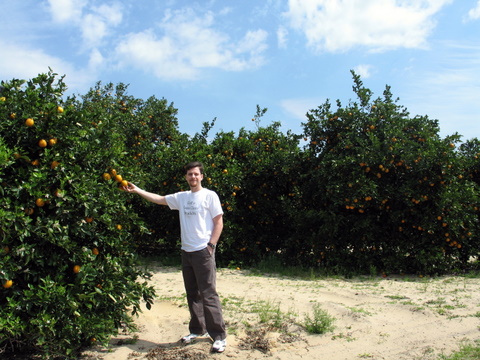 You can also see the tower in the distance: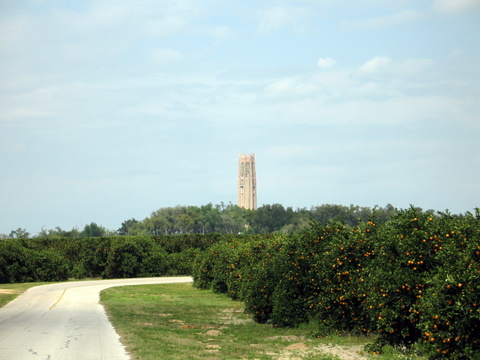 It costs $10 per adult to enter the "sanctuary," but it is worth it. You walk through the visitor's center, which has a museum and video, then you can wander around the gardens, all the way up to the tower. It's actually a carillon tower, which means it has bells and plays music. We arrived around 12:45; the first concert of the day starts at 1:00. We walked around in the gardens while the music played and snapped photos. It's very picturesque, with all sorts of foliage and even some swans.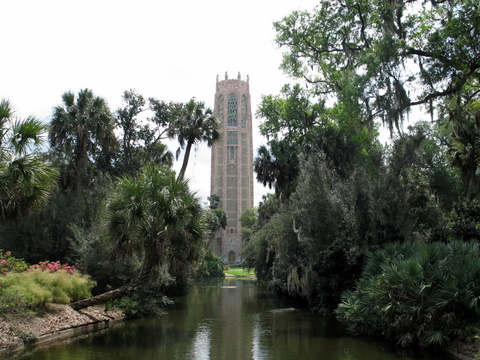 This is the tower from the far end of the reflection pool.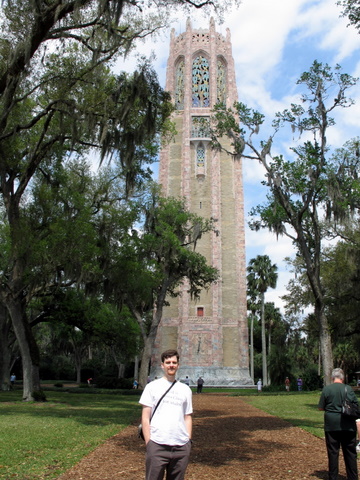 Here's Ryan behind the tower.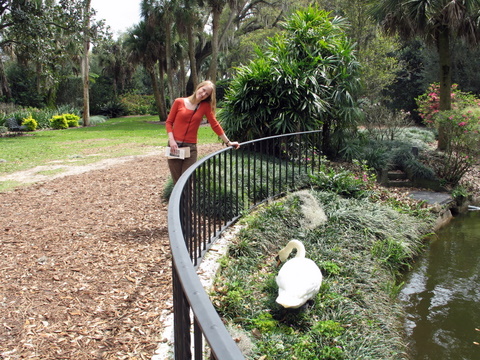 Here's Debi pretending this is a friendly swan (it kept inching closer and trying to take a piece out of our legs).
These last two are kind of cool. Calvin Coolidge dedicated the sanctuary in the 1920s. Apparently, while he was there, he and his wife planted palm trees. There was no mention of this in any of the information in the park, but as we walked around, I saw these plaques indicating which palm trees they had planted. I'm standing next to the one planted by President Coolidge; Debi is by the one planted by First Lady Coolidge (I apologize for the gendered titles, but they are what they are):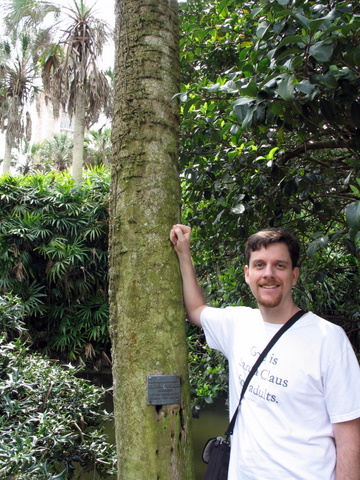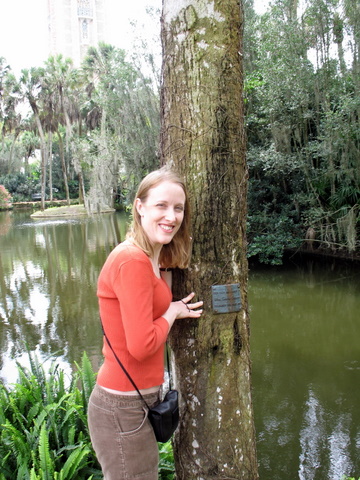 We spent a good couple hours at the sanctuary then headed out to find another local attraction – Spook Hill. That same guidebook suggests this attraction. As an inveterate fan of the obscure, I thought it might be cool to find some sort of local optical illusion – a road that is situated such that gravity seemingly pulls you uphill. I'm sure there are places like that around the U.S., but not this time.
It took us a good 30 minutes just to find this place as the signage around town is terrible. I was beginning to think that the mystique surrounding Spook Hill was actually that there is no Spook Hill – it's just a myth and you drive around trying to find it, which makes it "spooky."
(This actually gave me an idea that I thought would be kind of fun if you live in a small town – come up with some weird "attraction" that you think people would actually go out of their way to see. Then go out around your town and put up signs with arrows and names that send people in a very large circle around town but never actually send you to an attraction. Then build a web page talking about how amazing this attraction is. Once you start getting hits, go see if people start showing up and follow them around, laughing. Okay, that's mean, but it would be funny.)
We eventually found the place and then busted up laughing. Remember, the whole idea is that your car is supposed to role in such a way that it is spooky. You might think that means rolling in the direction opposite of what you would think. You would be wrong. I was so disappointed I filmed the whole thing (well, Debi did while I ran through it).
After watching several other people fall for this ridiculous attraction, we decided we'd had enough and left. Final word: Spook Hill is the dumbest attraction I've ever visited. Don't go!
After wasting an hour at Spook Hill we headed toward Titusville to set up camp and watch the shuttle launch. We arrived around 5:00 pm and found there were already about 50 people camped out at Space View Park. Many of the front row spots were taken, but we found some that were not and set up camp. I had researched online the best places to view the launch. Without spending anything, Space View Park is the place to go. But it fills up fast. We got there at 5:00, almost 10 hours before the launch, and barely got a front row spot. By about 10:00 pm people were stacking up several rows deep. By the actual time of the launch, there were probably 800 to 1,000 people in the park (and it's tiny) and people were backed up quite far. We knew we had time to kill, so we brought Scrabble and Stratego to play while it was light, then had books and games on our handhelds to keep us entertained. We also brought blankets and pillows and got in a couple hours of sleep.
Amazingly, the launch went off without a hitch (a first in a long time) and I got this footage.
I actually filmed it in hi-def and am happy to share that footage with anyone interested (it's still grainy until ignition because it is so dark, but once it lights up, the picture is amazing). It was a very cool launch, even though it was short-lived. The shuttle took off, lit up the sky, then disappeared into the low cloud cover. It was just a cool event.
We waited a while for the traffic to clear out, but we still ended up getting stuck for about an hour. We got home around 6:00 am and crashed for a few hours before starting the day Tuesday.
Overall, I'd say Florida is pretty freaking cool! Bok Sanctuary is amazingly beautiful and the launch was awesome. Spook Hill should be nuked, but you can't win them all.