We decided to take a day off yesterday for the 4th and spend the day at the beach.  We've been to Fort de Soto's two beaches so we figured we'd try another beach.  This time we went to Honeymoon Island.  It's a state park and costs $5.00 per car to get in.  It was pretty packed yesterday, though that still didn't mean it was busy as the beaches we've seen in California.  Even though we aren't really beach bums, we are starting to become beach snobs.  While the beaches on Honeymoon Island are nice, they still aren't as nice as Fort de Soto's.  The beaches aren't quite as wide and, at least where we were, there was a distinct sulphur smell most of the time.  Also, the beach is a bit rockier.  Those two minor issues aside, it's a nice beach.  Staying there for nearly 8 hours gave us a chance to see the changing tides, which dramatically alter the shape of the beach, which was pretty cool.
Having never done so before, I decided I wanted to build a sand castle.  Here I am hard at work with my high-quality sculpting instruments (I actually used a broken piece of sea shell for most of the sculpting).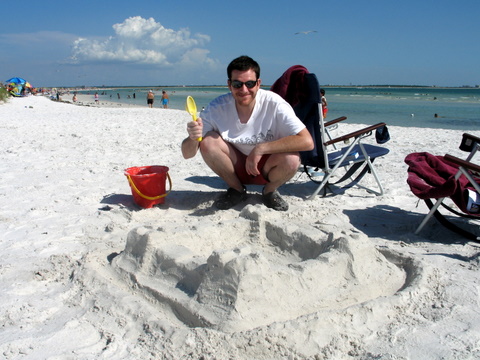 Our neighbors at the beach, who were just behind Debi as she took this picture, were kind of fun to watch.  There were three kids: an infant and two kids between 5 and 10 years old.  The two older kids saw us building the sand castle and decided they wanted to make one too.  They didn't really know what they were doing, but they tried hard.  The ended up with a circular mound, kind of like our moat, but without any towers.  I finished our castle and was just about to say they could come play with it when I saw the boy who was building the castle take a toy hoe to it and dash it to pieces.  I didn't invite them over…
Here's Debi by the sand castle at sunset.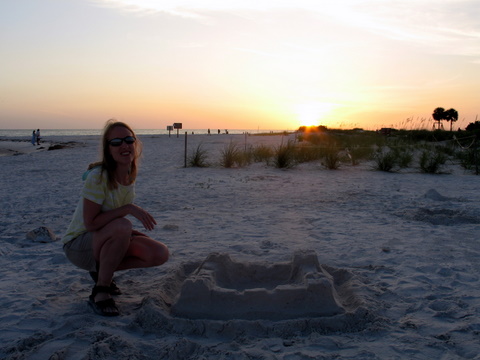 And here's the sunset just before we headed home: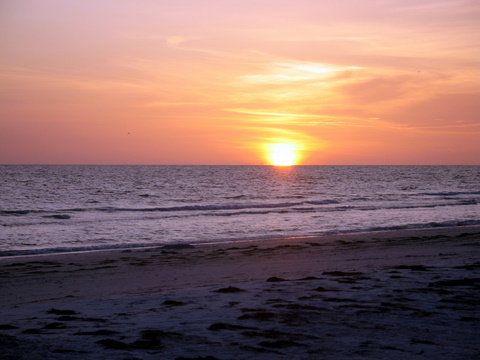 It was a nice day overall, though we ended up with some minor sunburns.  I failed to put sunscreen on my ankles, so they are nice and red.  I lathered up Debi's back, but it wiped off while she read and she didn't realize it.  So, she ended up with a rather toasty back.  Even so, it was a very enjoyable and relaxing day.