We spent the weekend in Jacksonville, FL visiting with a colleague.  On the way there on Friday we stopped by Mt. Dora, Florida, a cute little hamlet north of Orlando.  It was recommended in a little travel book our neighbor gave us.  It does have a small, resort town feel with lots of cute shops and a nice lake.  We ate lunch at 5th Avenue Cafe, which was good, then stopped by the lake to snap a few shots.  The first one is of Debi by the lake.  The next one is Ryan by the famous lighthouse on the lake.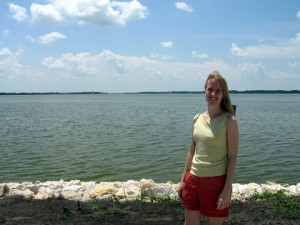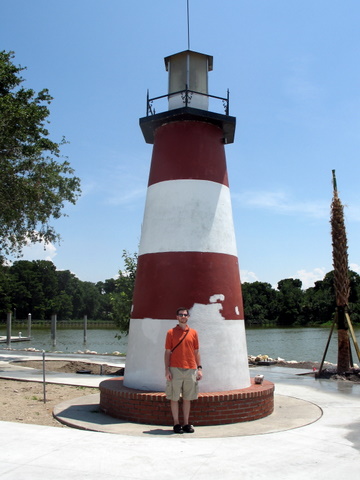 It's a cute place and supposedly great for the sunsets over the lake.  Maybe we'll stop by again some time.
We went to dinner that night at the Jacksonville Landing.  According to my colleague, the Landing is the city of Jacksonville's attempt to bring people downtown.  However, because it is frequented by minorities along with whites, it has a hard time drawing wealth white suburbanites in.  Racism is alive and well in the US.  There was certainly a mixture of races and ethnicities when we went.  We had dinner at Vito's Italian Cafe.  It was good, but not remarkable.
On Saturday we drove down the coast to St. Augustine.  We drove through Ponte Verda, which is filled with enormous homes (stratification is alive and well today too).  We also stopped in Guana River State Park to check out the pristine vegetation and beach.  It is really beautiful.  Here's Debi by the beach at a lookout.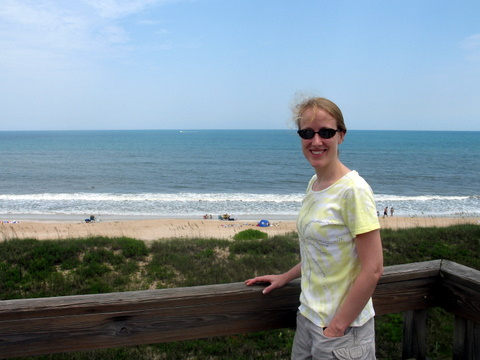 We then spent the afternoon cruising around St. Augustine.  St. Augustine is the nation's oldest city.  It has a bunch of side streets filled with shops and restaurants.  It is also the home to Flagler University, which is housed in a very cool old hotel.  There are also a bunch of cool art galleries, some of which had artwork that was really cool.  It's a bit touristy, but definitely a place worth visiting, especially if you like window shopping and pretending like you have enough money to buy original artwork.
Here's a picture of Flagler University: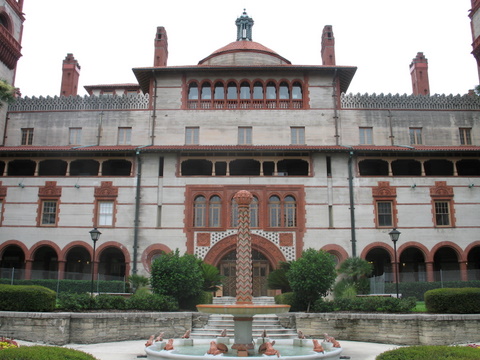 On our way back to Tampa we drove through Palatka, the home town of one of the other professors at the University of Tampa.  He talks about it all the time, describing it as a bit backwater-ish (okay, the way he describes it I thought it was going to be a rednecks only zone).  It wasn't nearly as backwater-ish as I thought it was going to be, but it certainly has its moments.  We ate lunch at Angel's Diner, which claims to be the oldest diner in the US.  It's definitely unique.  The diner looks to be in an old, converted rail car.  It's a bit "greasy" inside, but the wait staff were friendly enough and helped us pick out some nifty local food.  Debi got a grilled cheese sandwich and onion rings.  I went with an actual burger just to get the authentic experience.  Strangely, it tasted just like the burgers I used to eat in Morgan, UT.  The food was a bit greasy and probably took a few years off our lives, but it was tolerable.  Here we are at the diner: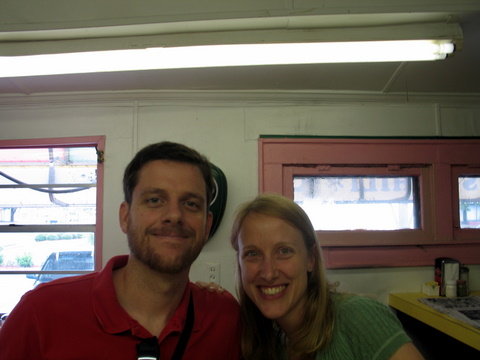 And here's Debi outside: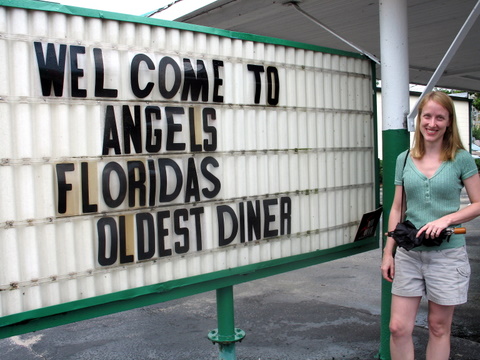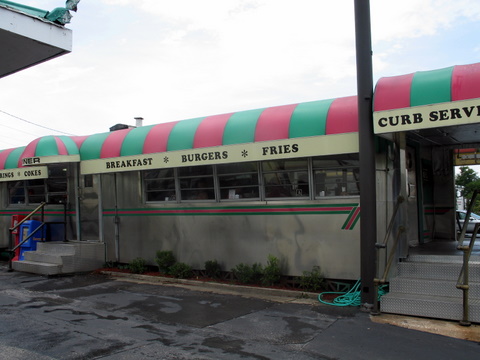 It was a good start to our travels in Palatka.  We drove through town and past our friend's house where he grew up.  It really isn't that bad of a place, but I couldn't believe my eyes at one point.  We were driving around town when I spotted what looked like an overgrown junkyard.  It was pretty overrun and I thought it was strange to have such an eyesore in the middle of a relatively nice town.  Then we got closer and I realized it was a cemetery.  The light areas in the photo are tombstones.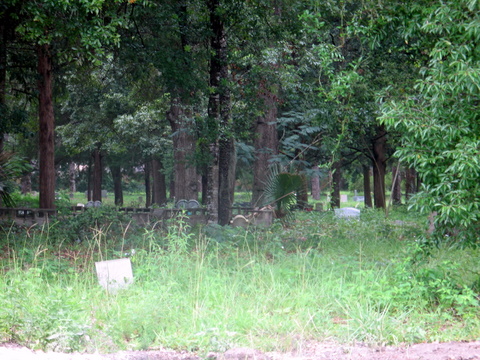 We happened to be chatting with our friend as we drove past and we asked him about it.  Turns out, and this blew my mind, it's the black cemetery.  Just a few blocks away is a nice, normal cemetery that is well kept.  Turns out that is the white cemetery.  A reflection of racial stratification?!?
Our friend suggested we swing by Ravine Gardens State Park while there.  It's a very cool park surrounding a cool ravine that has been left wild in some areas and is formally gardened in others.  It's very beautiful and was a cool place to visit.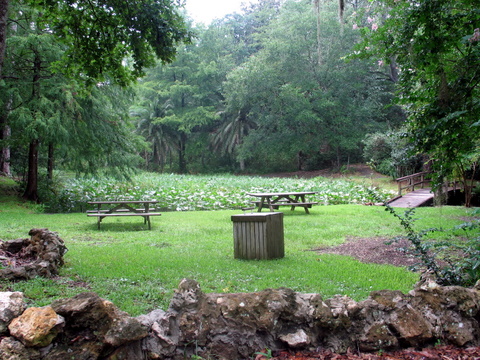 Unfortunately we didn't have enough time to hike around, but if we find ourselves back there we definitely will take the time to do so.  There are a lot of hiking paths that would be fun to explore.
Overall, it was a fun trip.  We got to see a lot of Florida, but there's still a lot more to see.