Last year we snuck away during our winter break for a quick getaway to Myakka River State Park.  This year we opted for a quick weekend getaway to the Everglades. We were waiting to arrange the trip based on the schedule of the contractors who are working on our house.  As seems to often be the case with contractors, they didn't really give us a clear sense of what was happening, but we told them we were going to leave town over the weekend anyway, so we did.
Because we didn't know exactly when we were going to leave, we waited until the last minute to make any arrangements.  Friday night I started looking for a hotel for Saturday night.  I searched around and found some that looked fine for about $90 (Debi hates really cheap hotels).  Then I realized that it might be the case some hotels would have deals for last minute travel to fill up rooms that were otherwise going to be empty.  A searched a few sites looking for last minute deals then decided to try priceline.com.  I had used the site before, but I figured I'd give a try.  I plugged in the Miami area and 4-star hotels only.  I then gave my price: $90.  I was going to pay $90 for a 2-star hotel.  So, if I could get a 4-star hotel for that, I'd go with it.  I hit the submit button and waited a minute… Up popped a response: we got a 4-star hotel for $90. It was the Hyatt Coral Gables.  Regular rate for a king – $289 per night!
We had a hotel; we were set.  We got up early Saturday and headed south.  We skipped the closest entrance to the Everglades as there isn't any hiking available there; it's really more for people kayaking or boating.  We drove to Shark Valley, which is the north entrance.  There is a 15 mile loop into the Everglades with a tram that will take you around the loop.  We originally thought we'd take our bikes and ride the loop on our own, but I thought the tram was free and I didn't want to deal with bikes in Miami, so we opted for the tram.  Turns out the tram is not free (it's actually a bit pricey – about $18/adult).  It was fine, but not worth that much.  For future reference: take the bikes.  That way you can explore the loop at your own pace.
Even so, armed with my nifty new camera (a Canon DSLR), we saw a bunch of wildlife and snapped some cool photos.  I'm going to do my best to name the birds and wildlife, but if I get something wrong, feel free to correct me.
These first two are of blue herons, just in different poses: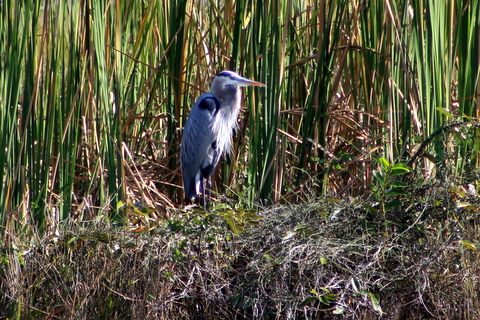 Of course we have the obligatory photos of alligators. This one was just lounging by the side of the road right at the beginning of the loop.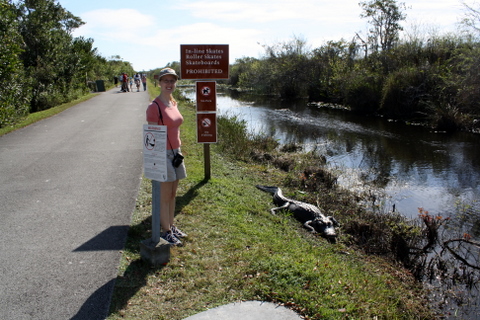 What you can't see in the photo is that the white sign says you are supposed to keep 15 feet from the wildlife (or 5 meters).  I actually didn't read the sign until after I had Debi take this picture of me: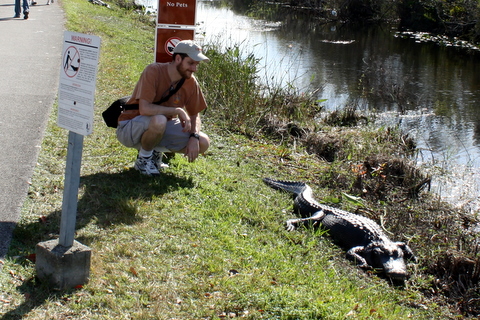 Yes, I'm close enough that the alligator could easily make a snack out of me.  Not smart on my part, but these things really were about the laziest creatures you've ever seen (with reason; they are cold-blooded).  They might move if you kicked them… maybe.  I was playing around with the zoom on my camera with that same alligator a bit earlier and snapped this one.  He looks… um, friendly!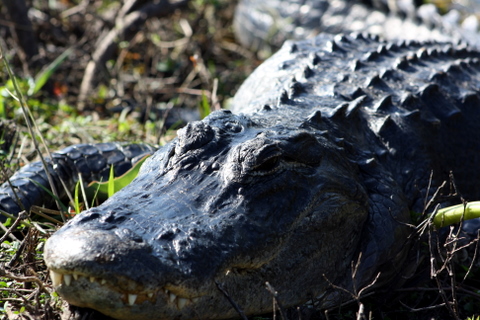 I also snapped a few photos of a mother alligator with her 14 offspring, all lounging in the sun: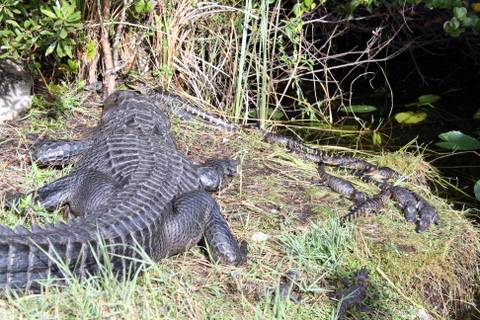 I have a bunch more photos of alligators, but that should do it for now.  They really are all over the place, though, intriguingly, we saw a lot more at Shark Valley than in any of the other spots we stopped.  This turtle (not sure what kind) also posed for a shot (there was a 4 foot alligator about 4 feet away, but the turtle didn't seem bothered by that fact):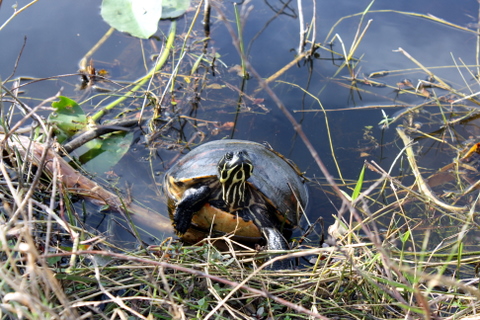 On the way out of the Shark Valley visitor center I snapped this photo of Debi by one of the many canals: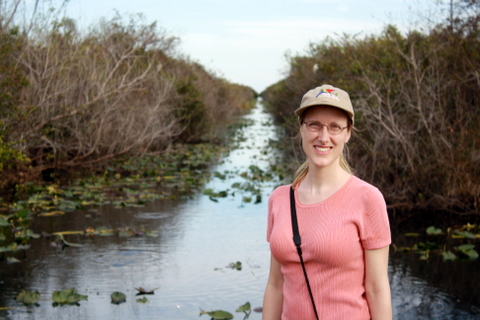 There was a great sign right by her that said:
WARNING!  HEALTH HAZARD!  Do not eat more than one bass per week, per adult, due to high mercury content. Children and pregnant women should not eat bass.
That's our National Park system, looking at for you!
Now comes the best part of the trip.  For those who are unaware of how geeky Debi and I are, you are about to find out.  We left the Shark Valley visitor's center around 3:00 pm and were not planning on going into the other entrance of the park until the next day.  So, it was late afternoon and we were headed into Miami.  What would you do?  Go look for the nightlife?  Go to the beach?  That's what non-geeks would do.  What did we do?  Well, we knew because we are uber-geeks that the James Randi Educational Foundation (JREF) is located in Fort Lauderdale, which is about 20 miles north of Miami.  As huge fans of the Skeptic's Guide to the Universe podcast, which frequently includes short clips of James Randi (a.k.a. The Amazing Randi), we thought it might be fun to stop by the JREF headquarters.  I had heard they had a library there and they sold books, so I figured we could stop by and check the place out.  And, who knows, maybe we could meet James Randi himself. (NOTE: Before you read any further, click on the link on James Randi's name to read up about him on Wikipedia.)
So, rather than drive to Miami or our hotel, we headed to Fort Lauderdale and the JREF.  We drove right to it with our GPS unit.  There's a big sign out front that says what the building is.  We saw a couple of cars parked there, including a light blue Miata (Randi's), but didn't see much action.  There is a metal gate in front of the main entrance doors.  It was open, which gave us some hope, but when we tried the doors, they were locked.  I thought I'd walk around a bit to see if there was another entrace, but Debi noticed the sign that said to ring the bell.  I was hesitant, but she insisted we try.  So, she rang the bell.  We waited about 30 seconds, then the door opened.  Out popped James Randi himself, white beard and all.  We were shocked!
Now, for those who didn't follow my advice above and click on the link to read up on Randi, here's the skinny: He's a world famous magician and probably the most famous skeptic alive today.  He has debunked countless psuedoscientists, authored lots of books, has been on TV countless times, and is basically considered the father of modern-day skepticism.  In short, he's Amazing (okay, bad pun).  He must have seen the looks on our faces when we saw him (stunned shock) as he immediately invited us in.  We introduced ourselves, but he had already shown us to seats in the 3,000+ volume library and was chatting away about his latest project before he even bothered to find out what we did.  He was the only person there and took an hour out of his extremely busy schedule to chat with us, show us around the JREF and library (he has all sorts of awards and plaques and cool things).  He was then kind enough to let us take photos with him before we left: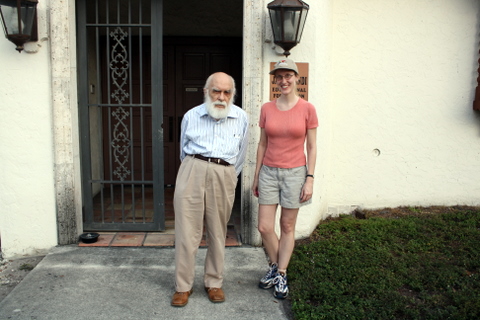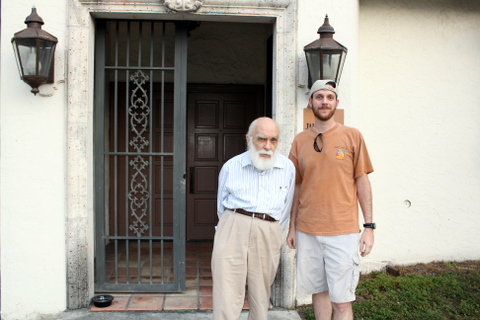 He's 80 years old and still works 7 days a week.  His super smart, witty, and he even pulled a few tricks on us. We've been around movie stars (thanks to my uncle and his family) and met many of them.  They are nice and all, but I've never been as excited to meet someone as I was with Randi.  I guess really respecting someone can do that to you.  This was definitely the highlight of the trip.  What a great person…
I should probably just end the trip report there, but this was just the first day.  And it wasn't even over.  Rather than take the freeway back down to our hotel, we drove out to the coast and drove along the coastal highway down to Miami Beach (see map below), where we stopped for dinner and walked down Lincoln Road,  a popular night life spot.  Since we aren't much for nightlife, we headed to our hotel, which was very nice.
The next morning we drove into the Everglades via the east entrance.  On the way we passed a number of farms and eventually saw one where the crops were being harvested.  I thought that was quaint until I realized none of the people doing the harvesting were white.  Then I had to stop to snap a few photos.  Here's one: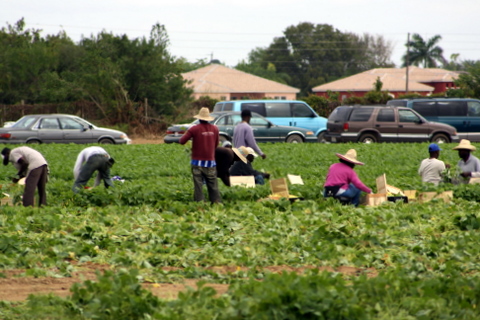 There were probably 100 people in this field harvesting the crops and none of them were white.  They all looked Hispanic or black (probably Caribbean).  We weren't the only people who stopped.  Two other cars with white people stopped to take photos of the black people working in the fields.  I'd love to hear someone say that race is no longer relevant in the U.S.  Go ahead, I dare you…
Inside the park we went on a couple of hikes (Christian Point, which we didn't finish) but got a little bored.  It's 1.5 million miles of grass and trees.  We saw a lot of birds, like this cool yet strange roseate spoonbill, which entertained us for a good 10 minutes while it fed in a pond near the Flamingo visitor's center: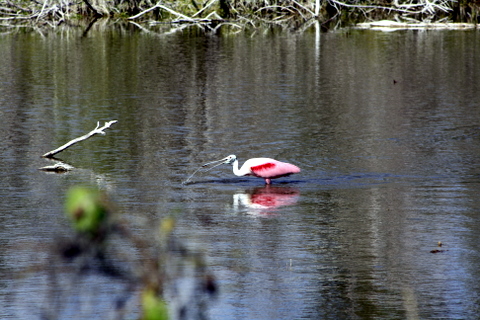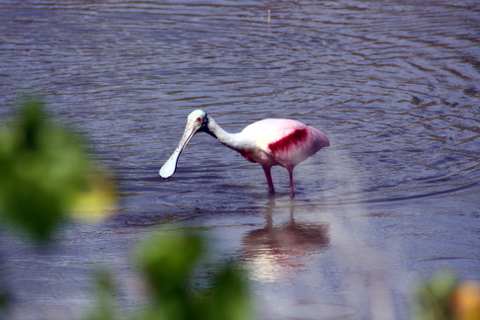 But while hiking we didn't see much wildlife, so we decided to call it a trip.  We stopped for a quick lunch in the park then headed home, a good 5 hour drive.  We got back around 8 pm.  Not bad for a weekend getaway.  If it wasn't for the over-priced tram, we probably could have done the entire trip for less than $200, including gas. Here's our path via Google Maps: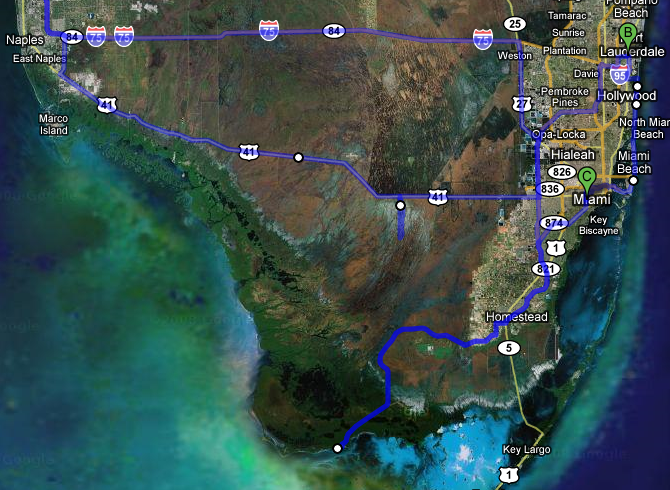 If you do ever get a chance to visit the Everglades, unless you have a boat (which would be cool), I'd suggest the Shark Valley entrance.  Rent a bike (or take your own) and ride the loop at your leisure.  You might see some other cool things via the other entrances, but most of the wildlife we saw was at Shark Valley.