We spent the morning of the 6th packing up, then flew home.
Our flight from Utah left around 2:00.  We ate lunch before we went to the airport, but needed to pick up dinner in Houston.  Since we didn't have much of a layover, we grabbed Subway sandwiches on the way to our connection.  We always get the same thing at Subway – veggie patty sandwiches.  Since Toren doesn't like mine (with spicy mustard, pickles, and peppers), he eats part of Debi's.  But Debi eats more than I do, so now we get her a footlong and me a 6 inch.  Toren, apparently, was hungry.  So, he took Debi's footlong and carried it through the airport and even onto the plane, munching on it the whole way.  He didn't eat the whole thing, but he probably ate 4 inches of the sandwich.  It was pretty funny to see this tiny little toddler carrying around a footlong Subway (though also disturbing, I guess).
The flight was uneventful, though Toren insisted on getting in the overhead bins on our last flight once we had landed.  The crew didn't care; we were in the very last row and waiting for everyone to disembark.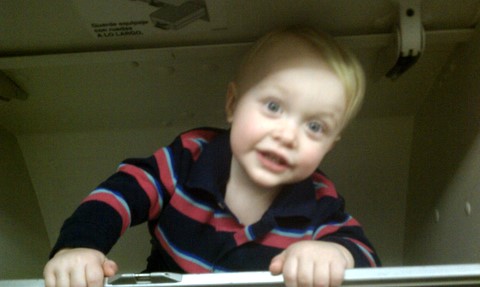 Our ambitions of doing lots of things with family AND getting lots of work done fell short.  We did lots of stuff, but didn't get much work done. So, now we're trying to do that.