This was our first of two excursions during the service trip.  I voted (well, strong-armed) the students to do this excursion over some of the others – it was a trip to El Yunque National Forest.  It's the only tropical rainforest in the United States.  We got up early and hit the road, as it was basically all the way across the island from where we were volunteering.  Most of the students signed up to go ziplining just outside of the National Forest, but I knew what I wanted to do – hike.  A couple of students and one of the staff from Plenitud opted to hike with me.  We dropped the rest of the students off at the ziplining location and headed into the rainforest.  We hiked to the highest point in El Yunque and had a good chat the whole way.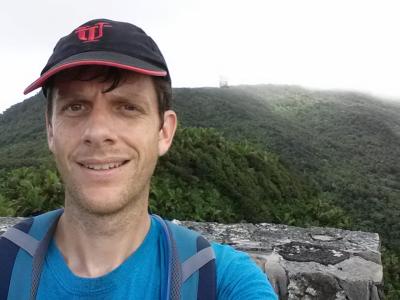 After our hike, we headed back to ziplining place and picked up the rest of the students.  They wanted to see El Yunque too, so we drove back into the rainforest and stopped by a few of the lookouts.  We also heard from one of the Plenitud staff members that there was a set of waterfalls that were off the road, so only Puerto Ricans knew about them, the Juan Diego Falls.  We had okay directions to find the Falls and eventually did.  They were pretty cool.  It's actually a series of three waterfalls and the middle one is quite big and the pool below is rather deep, so the students all waded in.
After Juan Diego Falls, we headed back to San Juan for dinner at a supposedly authentic Puerto Rican restaurant, which was good.  After dinner, we headed back to Plenitud, arriving quite late, since the roads are so narrow and I was driving a veritable bus.
Here are some videos of Juan Diego Falls.  The first two are of the lower falls, which aren't all that popular:
This next one is of the middle falls, which is where most wade into the water:
This last one is from above the middle pool.  Not many people go up here, but it is accessible: