This was our biggest day of driving so far on the trip.  We got up after our pleasant night in the tent, packed up, and started west.  We didn't exactly have to be any where by specific days or times, but we were beginning to think it might be nice to have a few days of down time in Utah prior to continuing our road trip, so we decided to push a little bit.  We left Acadia and headed to Portland, ME, where we stopped for lunch and stopped by my mother's aunt's house: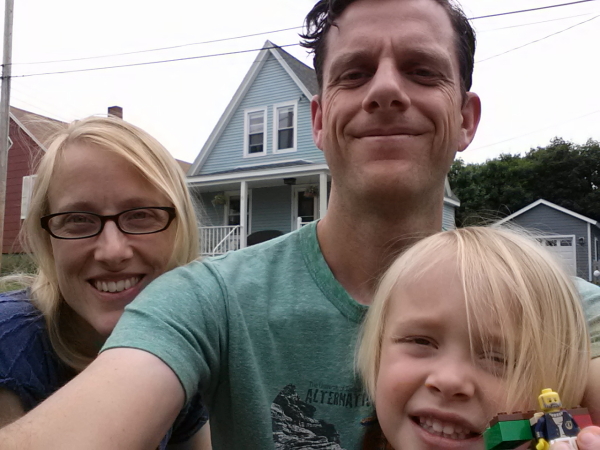 I believe her name was "Bertha."  When I told my mother we were going to Maine, I asked her where we should visit.  She is originally from Portland, ME, but didn't have the best childhood.  In fact, one of her favorite places from her childhood is this house, on 6 Mayfield Street.  It was a safe-haven for her, her sister, and her mother when things were bad with her father.  So, she recommended we stop by.  Since we were driving through Portland anyway, we stopped and took a picture, but were not bold enough to knock on the door and introduce ourselves.
From there, we pressed on, driving through parts of New Hampshire, Massachusetts, and then all the way across New York to Niagara Falls, where we crossed into Canada and checked into a nice hotel right by the falls.  Just after we checked in, the nightly fireworks show started, so we caught those, then walked down to the falls.  It was a bit misty and Toren couldn't see the falls very well, so he wasn't interested.  We stayed for about 5 minutes is all, then headed back up to our hotel to get a good night's sleep.
daily mileage: 750; total mileage: 3,165
states visited: no new states, but 1 new country; total state count: 14 (plus 1 district and 1 other country)