Traveling all the way to Greece for a week-long colloquium for work without taking any time to do some touristy stuff seemed like a waste of a flight across the Atlantic to me. When I thought of what I'd like to do if I had a few extra days in Greece I, of course, thought about visiting some ancient Greek ruins or various museums. But then I thought about hiking. I then had the thought, why not climb Mount Olympus? When the thought initially occurred to me, I wasn't sure what such a hike would entail nor whether Mount Olympus was the highest peak in Greece. It turns out it is the highest peak and is a hike within my abilities.
After spending a week on the Island of Lesvos for work, I caught a flight back to Athens, picked up a rental car, and headed toward Mount Olympus. I found some information online about climbing Mount Olympus, but not a lot (see here). The information I found online was sufficient to tell me roughly what to expect and where to start. But I didn't find distances or GPS routes online (though there are maps available).
What I found was that the standard trailhead is Prionia, which is basically just a restaurant at the end of a road out of Litochoro.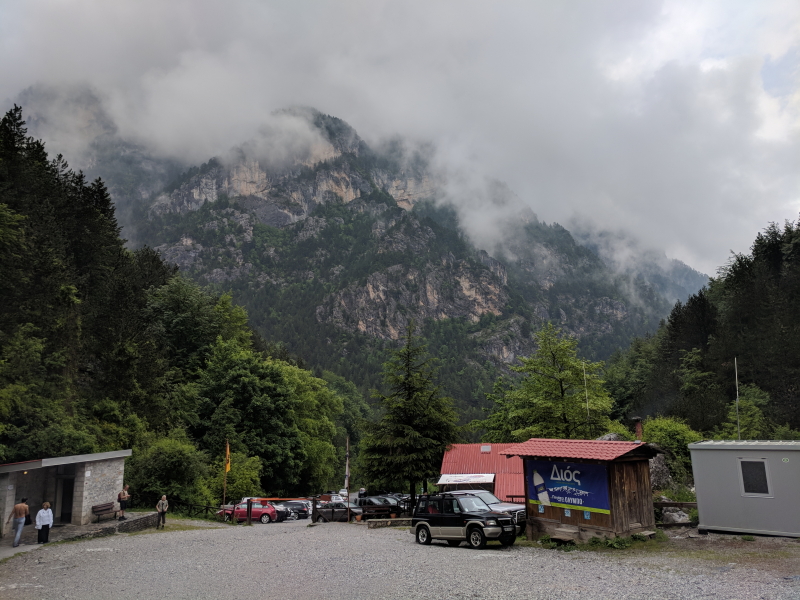 With that information, I plotted a route on my phone and headed out of Athens. I also read somewhere that the tolls in Greece were crazy. Turns out, that's pretty accurate. From the Athens airport to Litochoro I paid €27.65 in tolls (it's roughly the same going back). So, be prepared with a fair amount of cash if you're going to drive to Litochoro for this hike. (Another note: You need an international license to rent a car in Greece. You can get one here.)
Another thing I found online was that there are a number of lodges or refuges on the mountain where you can spend the night. If you're planning on climbing Mount Olympus in a day (which would be a pretty serious hike, see below), you may not need to reserve a night in one of the lodges, but given my itinerary, I needed to do so. I arrived in Athens early in the morning (around 8:00 am), made it to the Prionia trailhead around 2:45 pm, and knew I wasn't going to summit that day. So, I booked a bed in Refuge A for that first night (and possibly a second, since I didn't have a good sense of how long the hike would take). Most of the refuges have websites (Refuge A and the others).
Just as I arrived at the trailhead it started to rain. I stayed in the car for about 30 minutes getting my pack and gear together. And since I don't climb big mountains without bringing raingear, I also donned my raingear and put the rain cover on my backpack. However, just as I got out of the car, the rain stopped. I kept my rain pants on for about 20 minutes but then took those off as well. It was humid but actually quite beautiful just after the rain.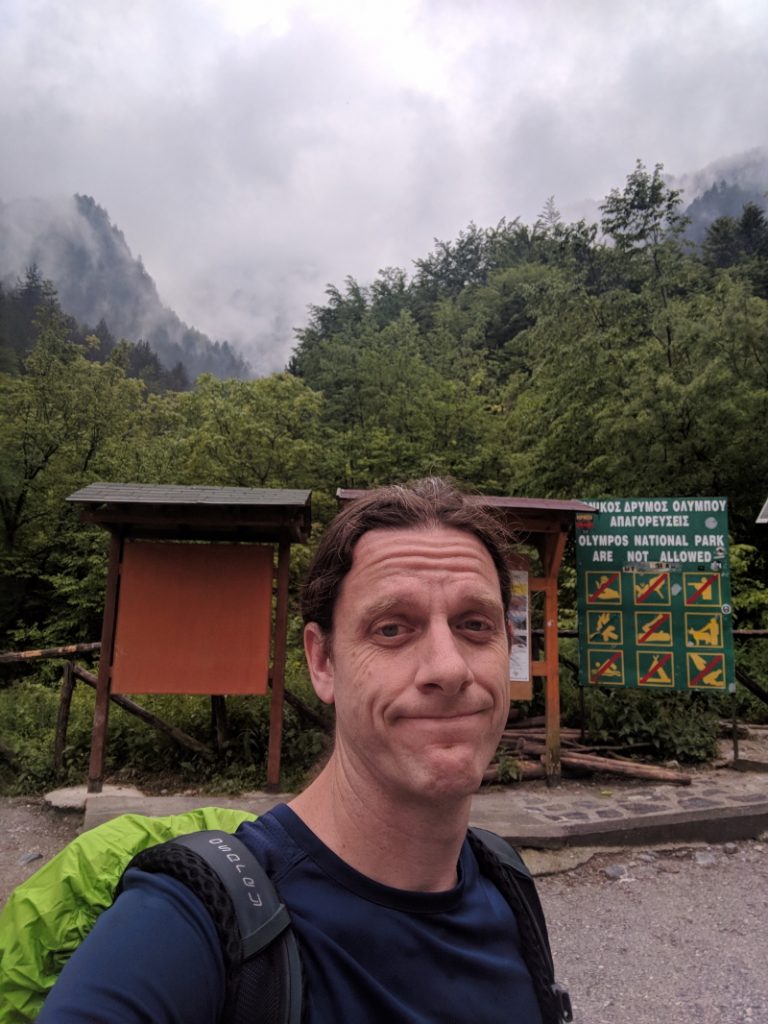 As noted, I wasn't sure of the distances but had seen that the hike from Prionia to Refuge A (Spilios Agapitos) took one person 4 hours. Since the refuge doesn't allow people to register after 8:00 pm, I knew I needed to get there fairly quickly. As a result, I pushed my pace a little bit and didn't stop for many photos along the way. I also turned on the hike tracking app on my watch so I'd have a better sense of what the mileage actually is.
On one website I saw that about 10,000 people attempt to climb Mount Olympus each year. That's a big enough number that I didn't expect the hike to be all that rugged. It turns out, the elevation gain on the hike is pretty impressive (about 1,000 feet per mile) and the trail is pretty rugged (not everywhere, but most of it is quite rugged). This part wasn't so rugged but very beautiful: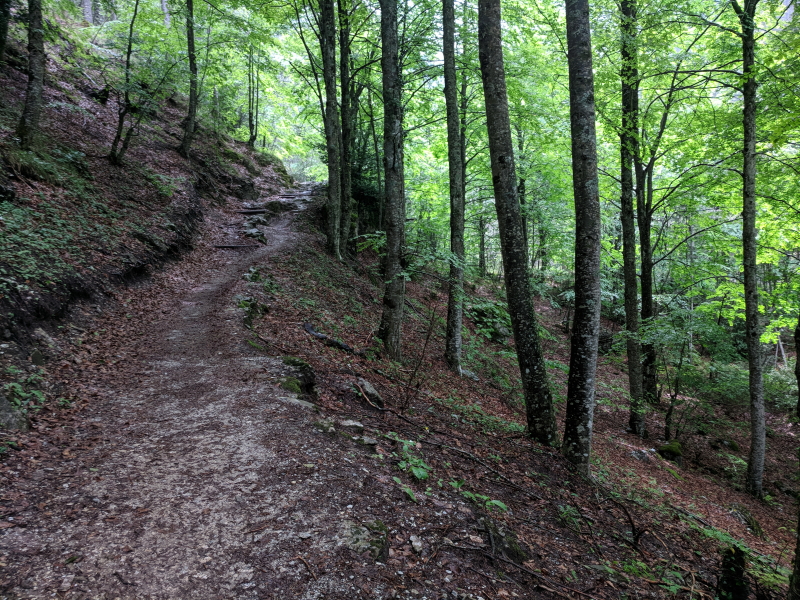 It took me just under 2 hours to travel the almost exactly 4 miles from the Prionia trailhead to Refuge A. Here's the route:
And here are some additional stats from my tracking device: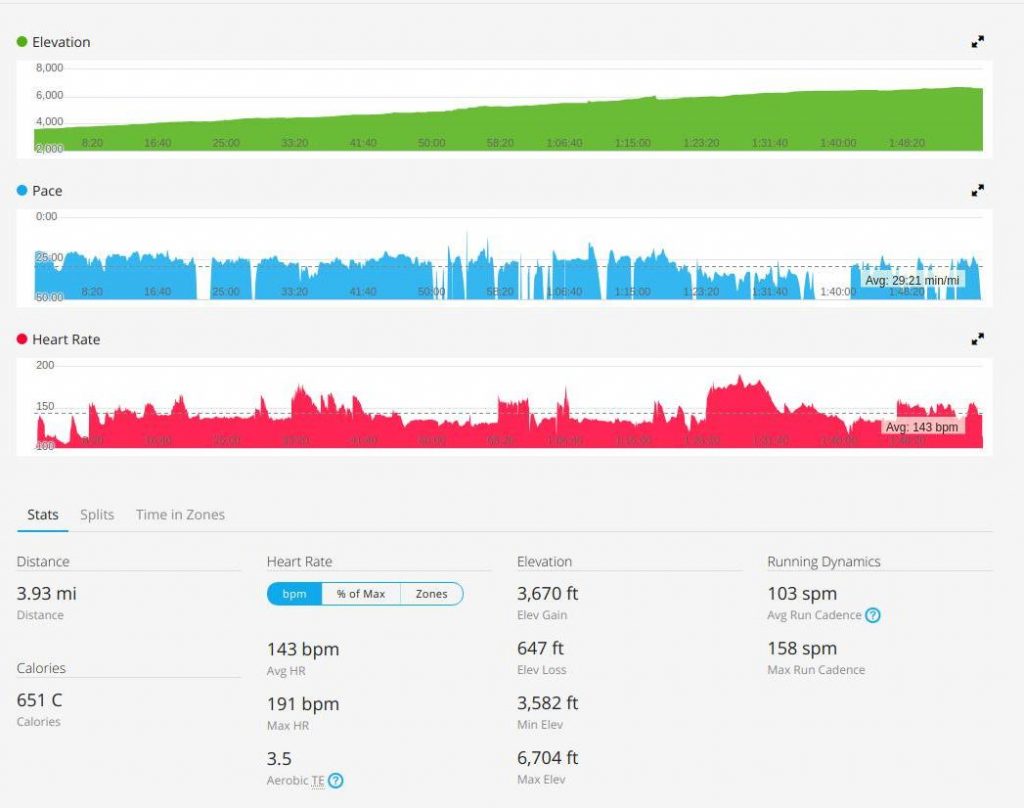 As this screenshot shows, the distance was 3.93 miles (basically, 4 miles) and the elevation gain was 3,670 feet, which I'm rounding to roughly 4,000 feet. In other words, 1,000 feet of elevation gain per mile, which is pretty substantial elevation gain. You can see some of the ruggedness of the trail in the photo below (which also shows the E4 trail markers that you follow all the way to the top of Skala):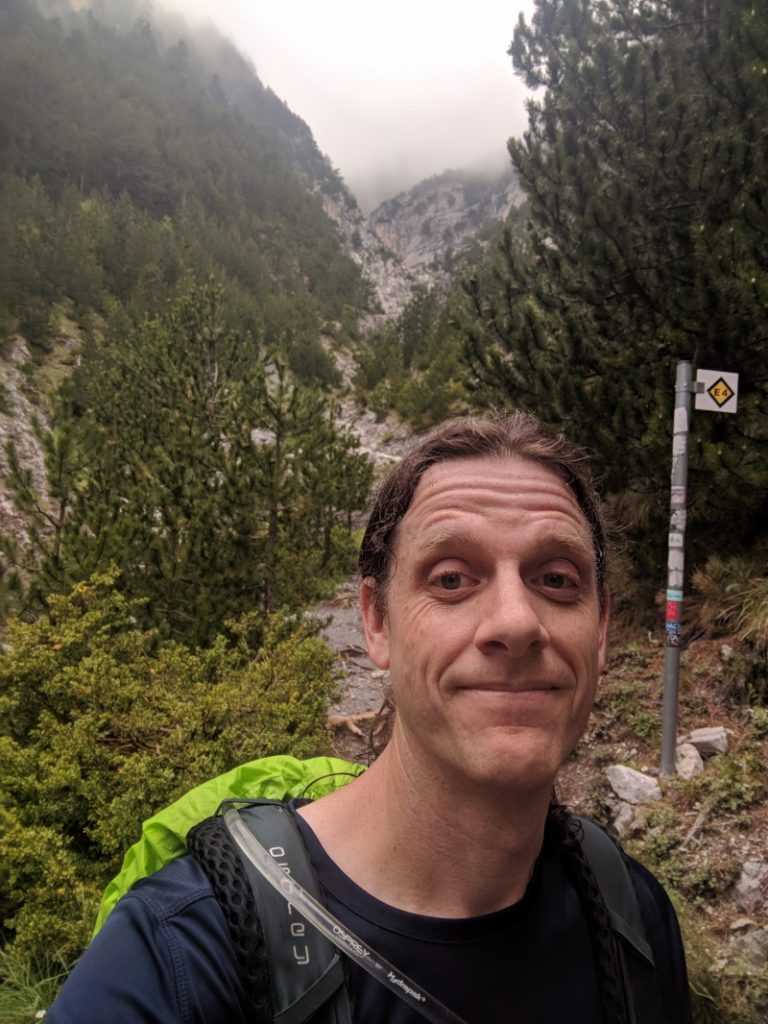 About two-thirds of the way to Refuge A it started to rain again, lightly. I ended up putting my rain jacket back on for the last third of the hike. I arrived at Refuge A around 5:00 pm. Never having stayed in a lodge like this in Europe, I wasn't quite sure about the protocol. But the owners were nice and helped me get checked in and settled. It was €13 for a bed for the night. They also had lots of food, snacks, and other supplies. The refuge has a bunch of beds in various rooms (I was in the biggest which had about 20 beds in it), two dining halls, places to store gear, and restrooms. The water is ice cold and the toilets are holes in the ground.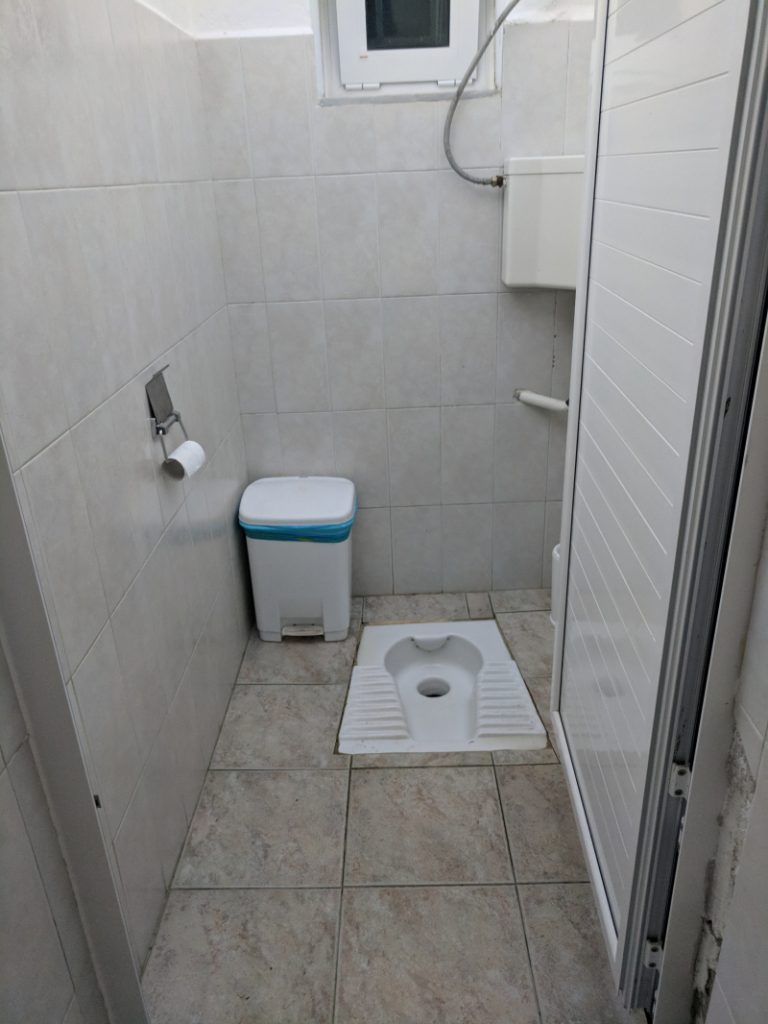 It's not a 5-star resort, but it works well as a refuge. (I later realized how they got all the supplies up there – donkeys.)
Once I got to the refuge and got settled in, I realized I had quite a bit of time (lights out at 10:00 pm). I had planned for this and brought a book on my phone to read. I ordered a drink and hung out in one of the dining rooms reading. Around 7:30 I ordered dinner (the portions are huge, so I ordered about half of the regular size). They technically have wi-fi in the refuge but it wasn't working. They also have outlets so you can charge devices if need be. I was able to get a cellular signal in one spot outside by a tree (everyone seemed to know where the one spot was) so I could let my wife know I was fine. Otherwise, I just hung out and read until it was time for bed.
Knowing I would be in a room with a bunch of other people, I brought earplugs. It was the right choice. Several people were snoring. With my earplugs in, I couldn't really hear them. I also brought some Zzzquil just in case and popped a couple of those in to make sure I could fall asleep. (FYI, the refuge provides you with blankets, but you'll need your own sheets. I found some lightweight sheets on Amazon that I brought with me.)
I set an alarm for 6:00 am the next morning which is when the lights come on. It turns out, I didn't need it. A bunch of people were up right at 6:00 getting their gear ready to go which woke me up as well. I quickly packed up, ordered some yogurt and honey and a banana for breakfast, wolfed it down, and hit the trail. (FYI, if you plan to return to the refuge after going to the summit, you can leave stuff at the refuge. I didn't think I was going to so I took all my stuff with me. This would be a nice way to drop some weight from your pack, like my flip-flops – which you need in the lodge as boots have to stay in the lobby – my towel, and sheets. That probably would have cut about 5 pounds out of my pack.)
Two other guys were headed out about the same time I was. They actually beat me to the trail while I was stretching, but I quickly caught up to them and they let me pass. From what I could tell, the people hiking to the summit from the lodge were generally pretty skilled hikers. The two guys I passed did a good job of keeping up with me over the next mile or so as I ascended toward Skala (the third highest peak in Greece and the launching point to Mytikas, the highpoint). I didn't see them much after that point. I made it to the summit of Skala around 8:45. I had been hiking in fog for much of the time, but just below the summit of Skala, the fog broke and I had generally clear skies but clouds below me. On the summit of Skala I got my first real glimpse of Mytikas.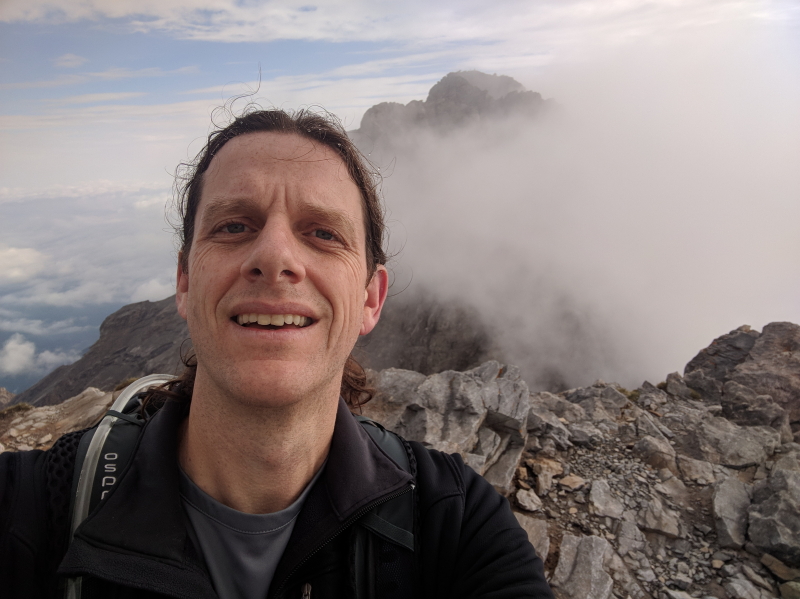 Here's a photosphere from the summit of Skala:
Not knowing how long the clear skies would last, I quickly swapped out my helmet for my hiking poles, slipped on my gloves, and started following the red blazes over the Class III section of the hike.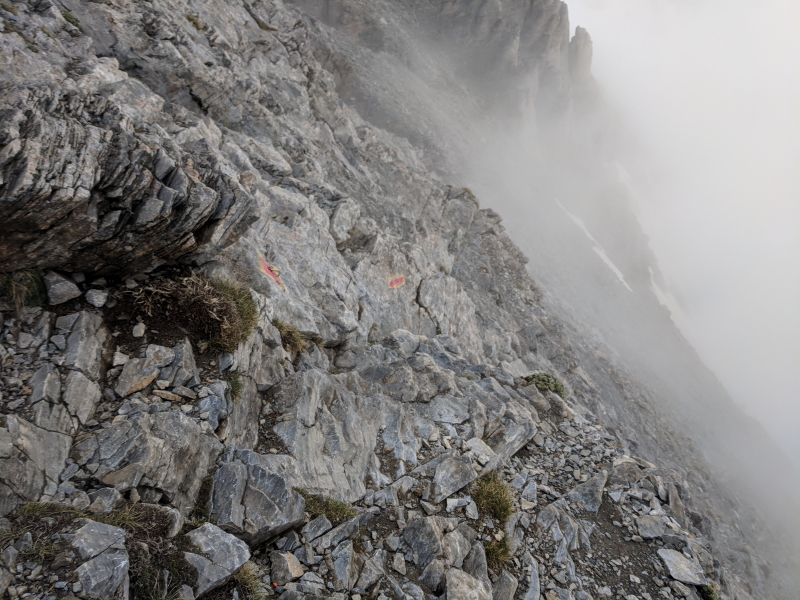 I had read that this section is a rock scramble that is somewhat technical. That is an accurate description. There are several spots where you are, in fact, climbing or descending near vertically. However, most of this section is not particularly dangerous and primarily requires slow, careful stepping, with about 1/3 of the time using both hands and feet. Follow the red blazes carefully and you'll be fine. There are anchors in several spots for ropes but they are never really required. My sense, however, is that this section of the climb would be an ideal location to practice using ropes and harnesses for those who are new to technical climbing.
It took me about 30 minutes to get from the summit of Skala to the summit of Mytikas. There is one spot that is a false summit about 2/3 of the way there. Don't make the mistake I did and get up your hopes until you see the flag waving on the top of the summit.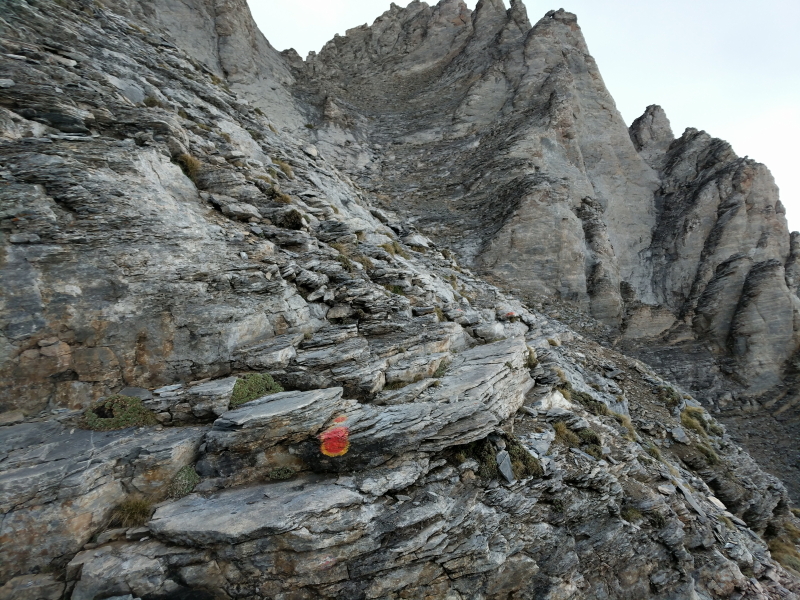 I arrived around 9:15. There were clouds below me but no clouds around me, offering me pretty clear views of Skala and the surrounding area. I had a quick snack then shot some photos and videos.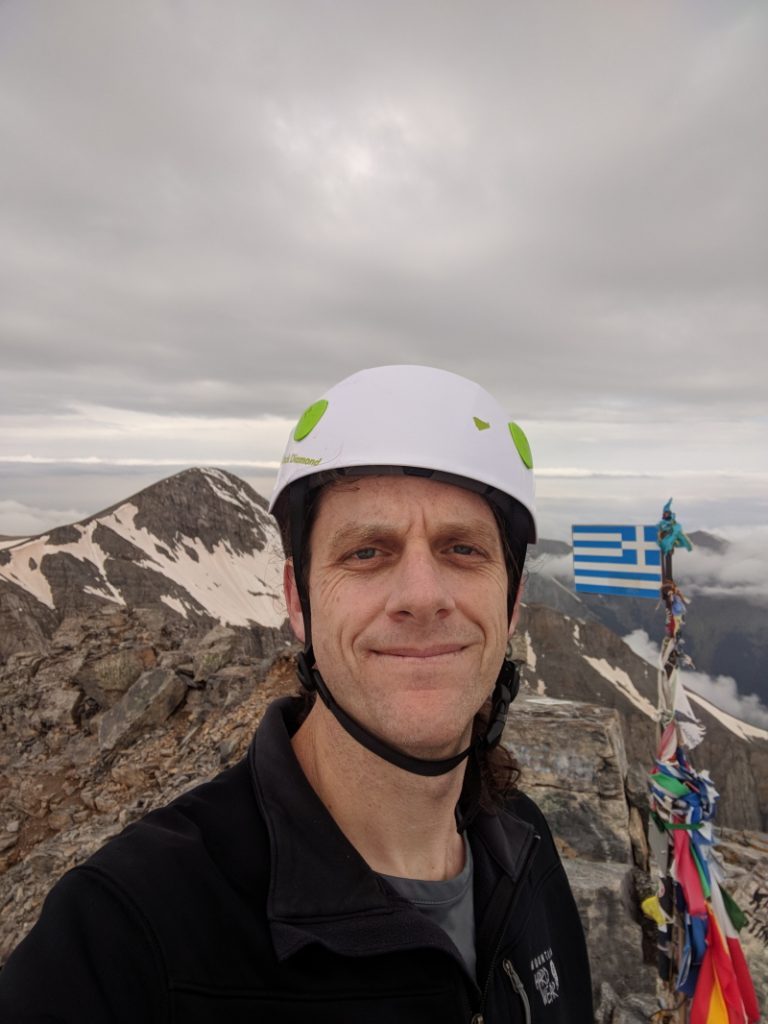 Here's a photosphere of the summit:
My tracking device indicated that it was about 2 miles (2.1) from Refuge A to the summit of Mytikas. It took me about 2 and a half hours to traverse that distance.
Here are the elevation and distance data from my fitness tracker: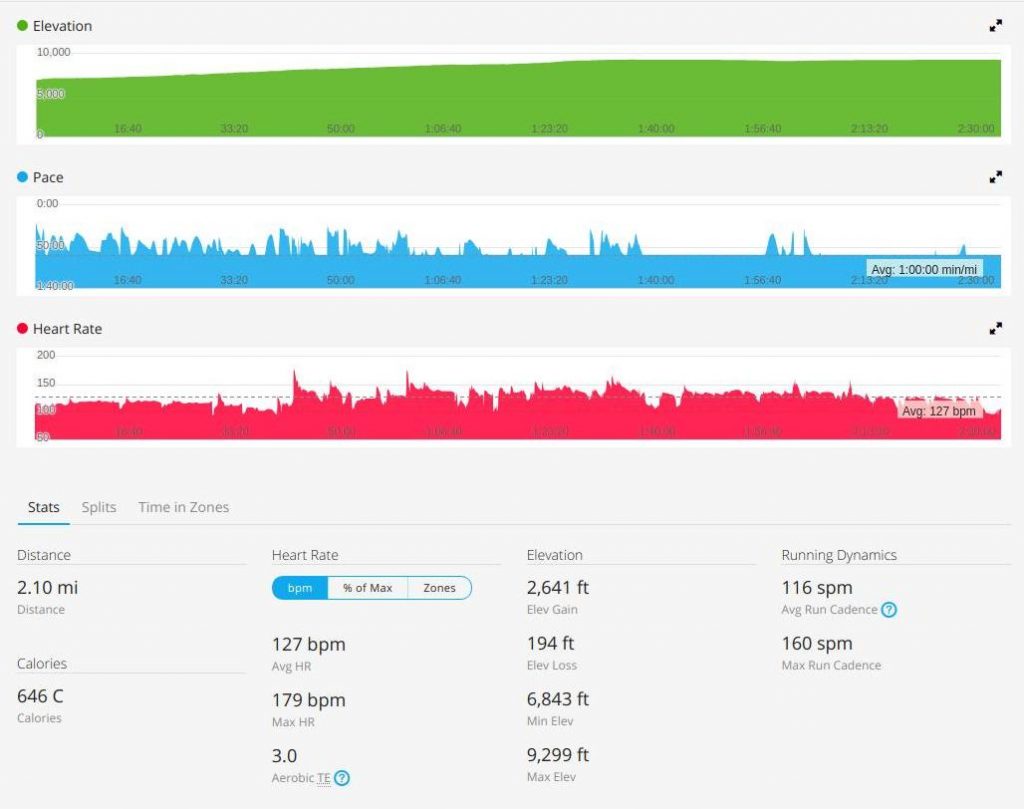 I didn't stay long before I headed back to Skala. As I did, fog started to roll back in. I ran into the first group of people attempting to make the summit behind me about 2/3 of the way back to Skala. It was a group of four and two solo hikers all working together (all were from the UK I believe; I'm fairly certain I was the only person from the US in the refuge the night before). One woman had gone only about 100 meters from the summit of Skala before she turned back. The steepness of the area freaked her out and, knowing her limits, she didn't want to go any further. I mention that only to illustrate that this hike really isn't for everyone. It's steep and somewhat technical. Don't be overconfident as it is a serious hike.
By the time I got back to the summit of Skala, the fog had rolled back in and I could no longer see Mytikas. I swapped out my helmet and hiking poles and headed back down the trail. I made pretty good time going down. I stopped once to put on my rain jacket as it started to sprinkle below the summits. I also stopped at Refuge A for a snack and to air out my boots for a couple of minutes. I had told the owners of Refuge A that I might stay a second night depending on the time it took to climb Mytikas and the weather. But, given that everything had gone well, I opted to hike out that day and go do some other stuff in Greece. I tried to target arriving at the Prionia trailhead at 1:00 pm but missed it by about 10 minutes.
I did stop regularly to take more photos and even some videos as the hike is quite beautiful. This shot shows how steep the mountain is (and the fog that seemed to be ever-present):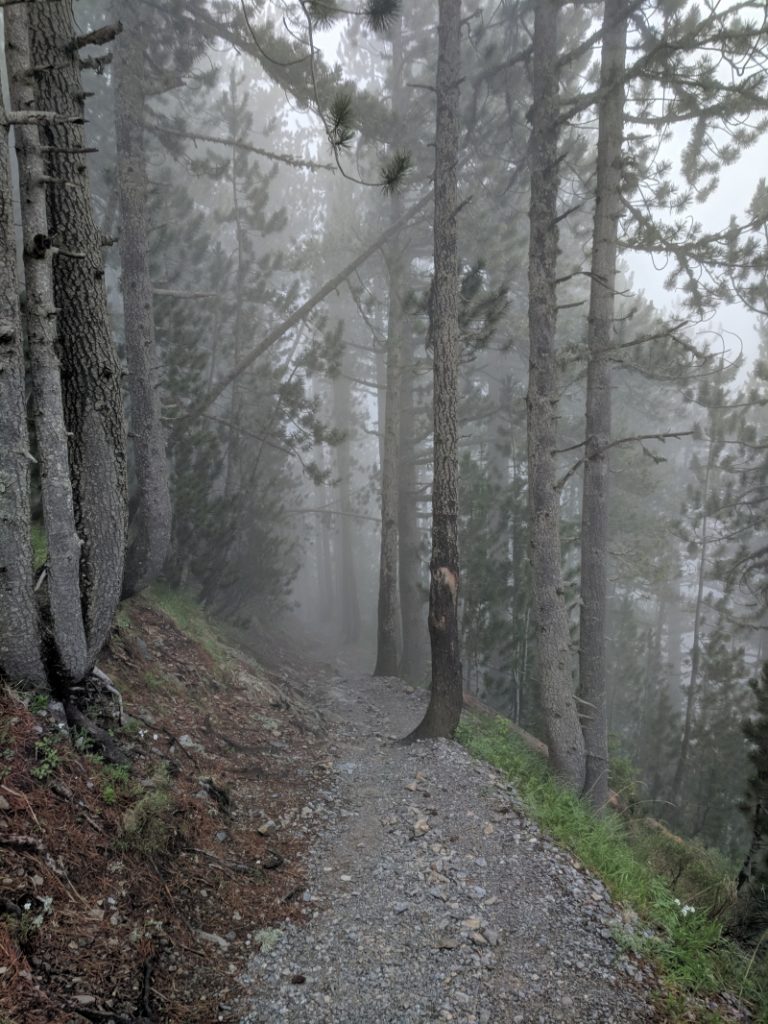 There are also a couple of water fountains on the hike like this one:
Presumably, you can drink the water. I didn't. But I think it is supposed to be clean.
I restarted my tracking device on the summit of Mytikas to get a sense of exactly how far it is from Prionia to the summit.
Here is the rest of the data from my fitness tracker: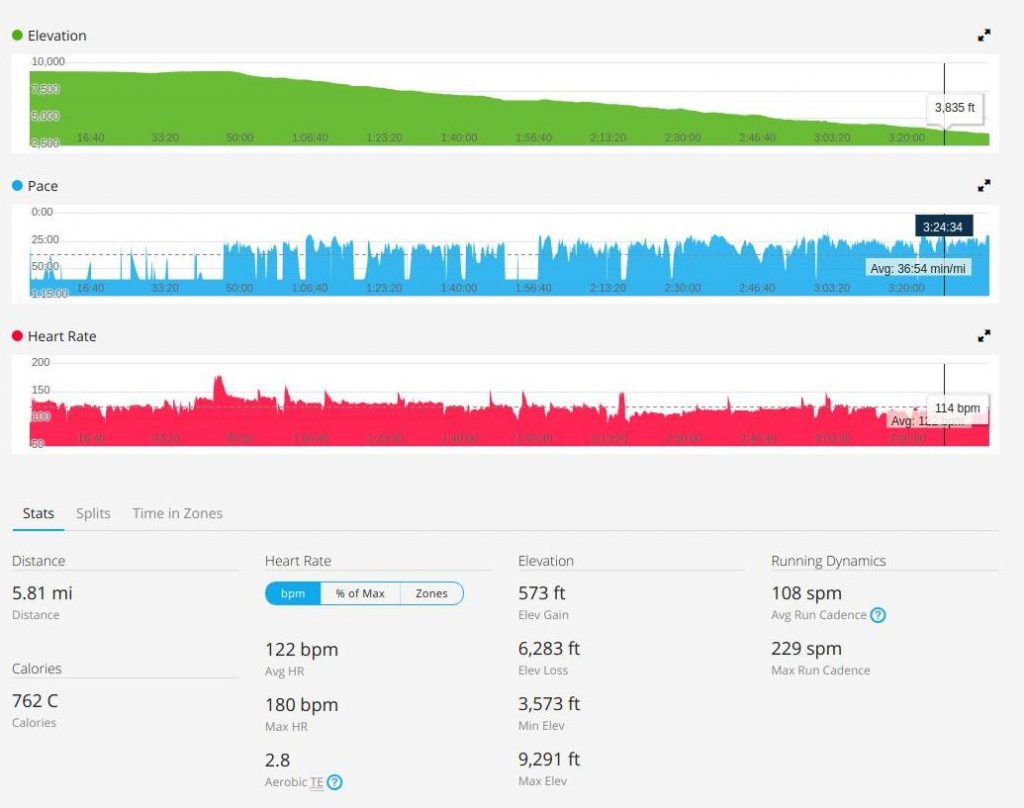 Basically, it's about 6 miles from the trailhead in Prionia to the summit of Mytikas. It took me 3 1/2 hours to descend from the summit to the trailhead.
Some final thoughts about the hike…
This was a more rugged, demanding hike than I originally thought it was going to be. I figured the trail would be pretty even and well-worn. The trail is generally pretty clear (not always) but it is quite rugged. The elevation gain is pretty substantial (over 6,000 feet total). And the technical section at the end to reach Mytikas is serious. Even though it doesn't require ropes, it's not an easy section, especially if there is fog or it is raining (I probably wouldn't do it in the rain). This is not a pleasant day hike for someone without experience. This is a grueling, 12-mile round trip hike for experienced hikers. You should budget plenty of time for bad weather and the possibility that you'll have to turn around and try to summit a different day.
I did leave Mount Olympus with a greater appreciation for why the ancient Greeks would have believed that is where the gods lived. During the two days I was in the vicinity of Mount Olympus, I never once saw the mountains without clouds covering them. The idea that the gods live on a mountain shrouded in clouds makes a lot more sense to me. Mount Olympus is nearly constantly shrouded in clouds. I also can't imagine ancient Greeks trying to climb Mount Olympus. I'm sure they were rugged and tough, but if they only had sandals or primitive boots and not a lot of experiencing climbing at those altitudes, it seems unlikely they would have ever climbed to the top. I think I understand why mountains were so mysterious and mystical now – they were impenetrable fortresses literally shrouded from view. Today, of course, we can penetrate those shrouds but that would have been virtually impossible 2,600 years ago.