I was in Norway on vacation with my wife and son (see here and here). We did a fair amount of hiking, and I originally thought we would all do this hike. But I caught a trip report a couple days before I did the hike that indicated it was still mostly covered in snow. Also, I saw the elevation gain and decided that, if I was going to do it, it would be by myself. My wife and son were accommodating and let me take a day out of our family vacation to climb Galdhopiggen.
From where we were staying, it was a 4 1/2 hour drive to the trailhead at Spiterstulen. The last 17 kilometers or so are on a dirt road that has just one lane. It's not very busy, though, so I only had to negotiate passing one car each way. I left around 4:30 am, stopped to charge the car once, and arrived at the trailhead around 9:00 am. When I arrived, there were probably 5 to 7 other cars parked at the trailhead. Spiterstulen looks like a smallish resort with a handful of buildings where you can spend the night. It seems like it caters to hikers. I didn't see much else going on there. Also, note that there is a toll here. It's not all that clear how to pay it. There was a machine at Spiterstulen, but it didn't work. Supposedly, you can pay the toll through autopay.io, but I wasn't able to figure it out. They suggested they would bill me by my license plate if I didn't pay it, so I went with that option.
I geared up quickly, used the facilities (there is a restroom there), and started up the trail at 9:15 am. Knowing that I was in for a brutal hike and that I still had to drive 4 1/2 hours back to my AirBnB after the hike, I decided to really push my pace. On the way up, I basically didn't stop for any breaks. I had candy with me to snack on and my camelback for water. I stopped very briefly to take some photos and to adjust layers, but otherwise decided to push hard and see how things went.
When I hiked this (June 9, 2022), the first quarter mile or so of the hike didn't have much snow. But it then transitioned to mostly snow, with a few spots where rocks were poking through. You can see that in this photo: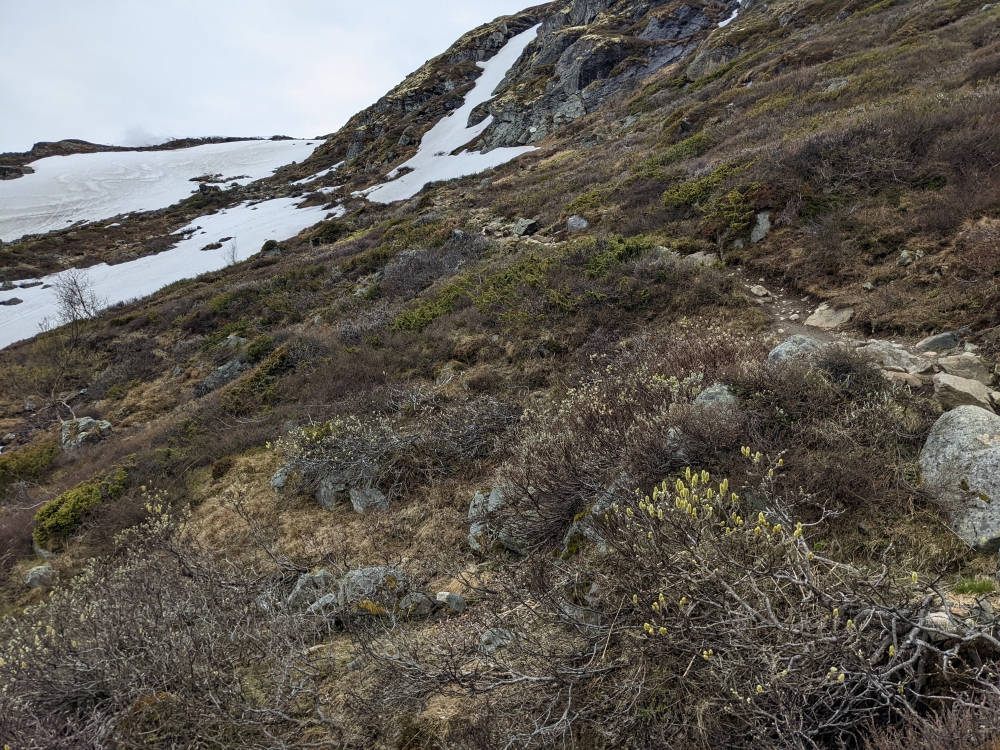 I started hiking about the same time as one other guy, but I passed him quickly. About 40 minutes in, I passed a couple. They were moving pretty slowly through a patch of snow. It was about this time I turned around for a second and caught the amazing views: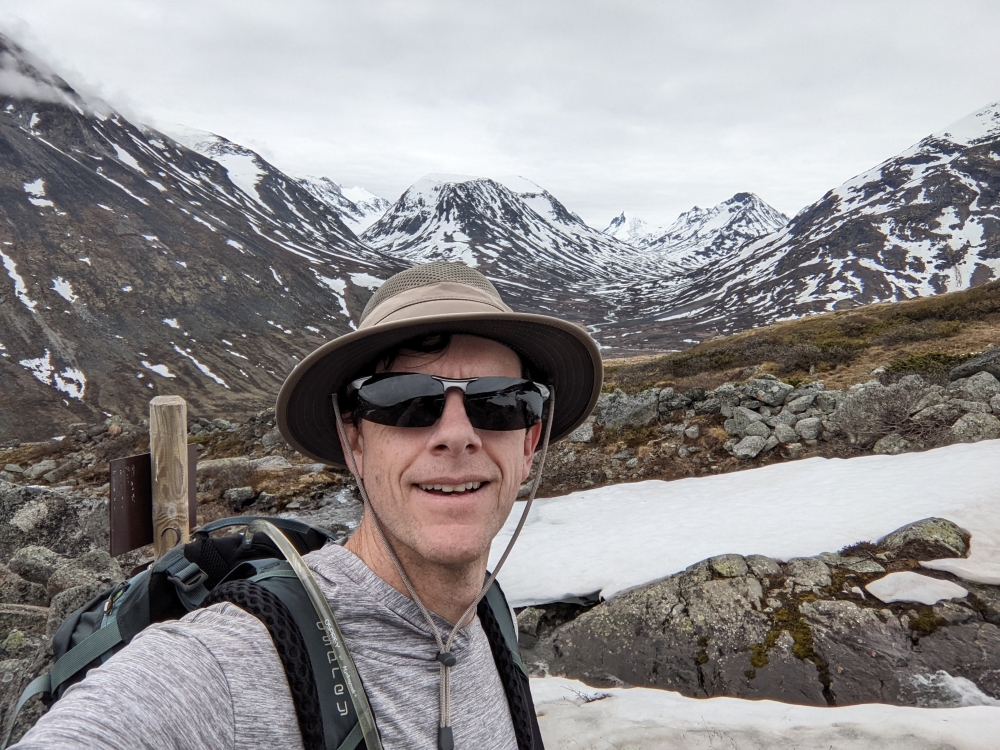 I also paused to film this cute waterfall on the way up:
Shortly after that, I saw another couple in front of me who were making pretty good time. It was actually kind of nice following them as they were leaving nice steps for me in the snow, which I followed until I caught up to them about halfway up the mountain. I caught up to them in a snow patch where they were breaking through up to their hips with each step. I swung around them and was okay for a bit, but then I started breaking through as well. I then opted to cut over to some exposed rocks and climb that section on the rocks instead of the snow. They followed me up that section. Here's how it looked (the first summit is at the top of this photo):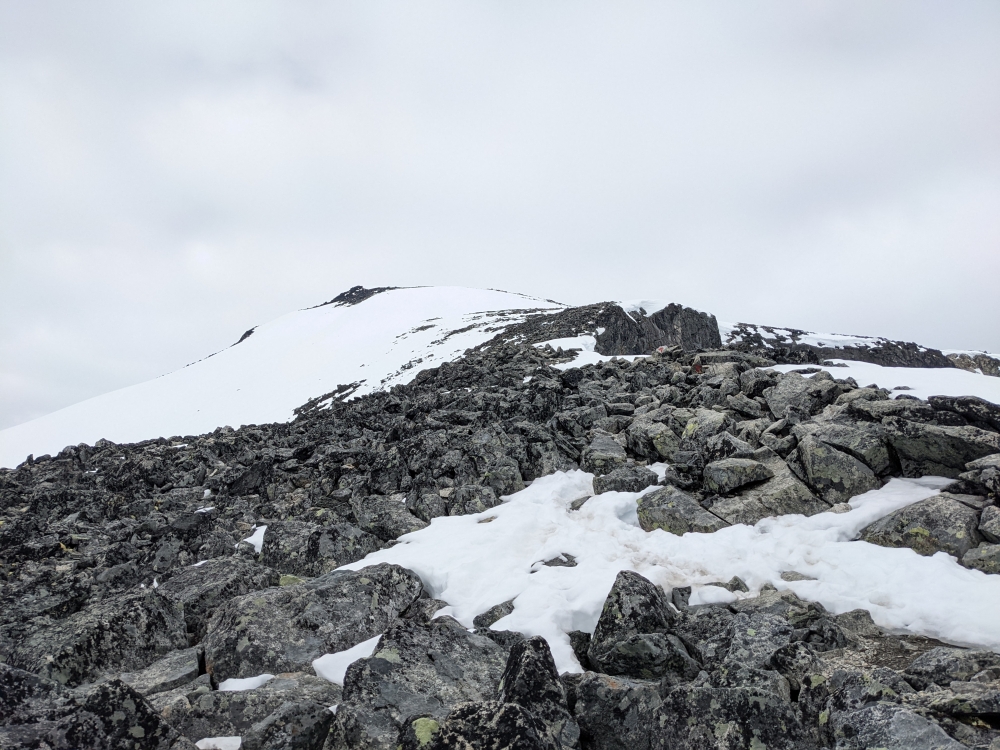 I could see a couple of people up ahead of me after I passed that couple, but they were pretty far ahead, so I was now route finding. The trail is marked with red blazes and rock cairns (you can see some in the photo above), but, with lots of snow around, there was no clear trail between these markings. Finding a route through the snow slowed me down a bit, but I kept pushing. I hit the first summit about 2 hours in. I passed the two guys in front of me on the second summit and then saw three other people in front of me headed up to the last stretch to the summit of Galdhopiggen. At the same time, I looked across to a ridge opposite me and saw a massive line of people roped together climbing up Galdhopiggen. They were part of the guided groups that cross the glacier. That is a much easier route with much less elevation gain. I determined that I would beat them to the top so I could have some time on the summit without a swarm of people.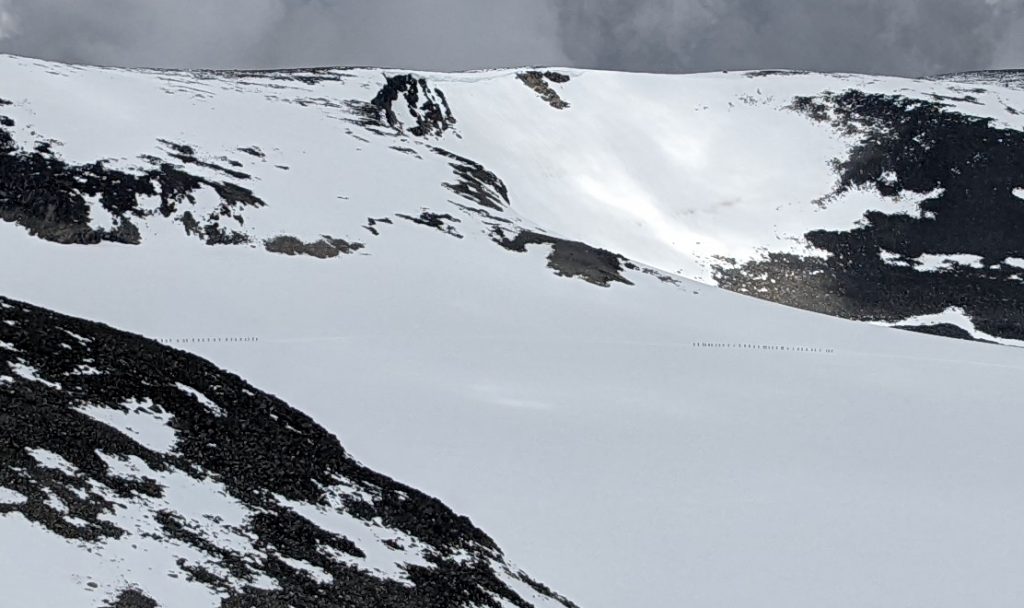 I pushed pretty hard up the last pitch to the summit and made it around 3 1/2 hours from when I started (around 12:45 pm). Here's a photo of the summit and the last pitch you have to climb: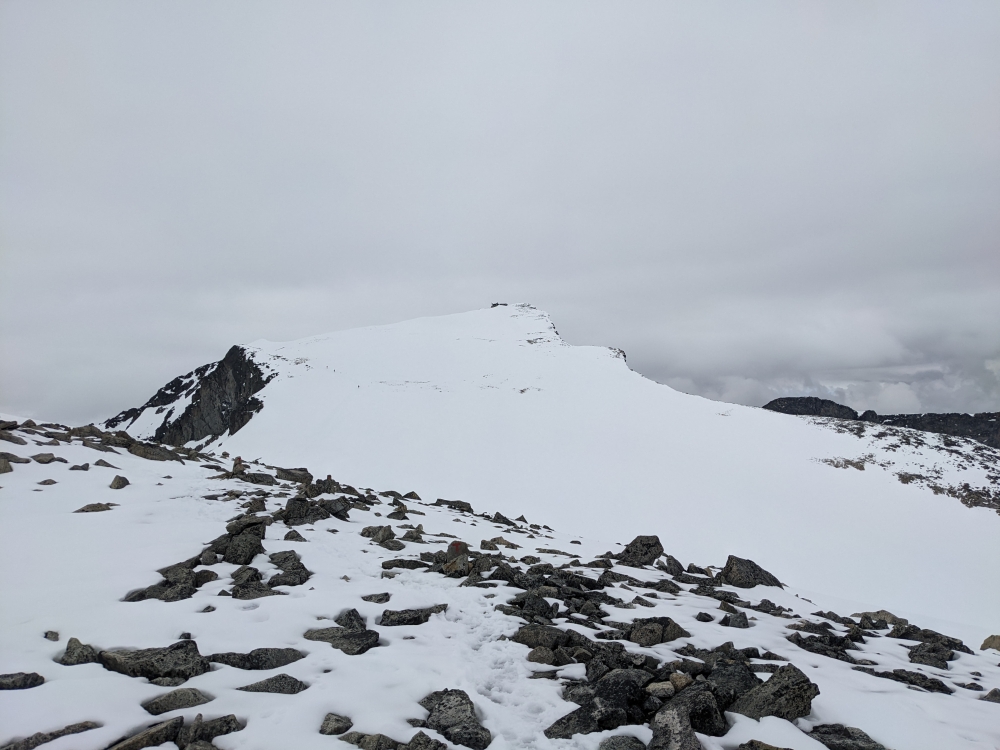 There were three guys on the summit when I got there. I snapped a few photos, including a photosphere:
Here I am on the summit: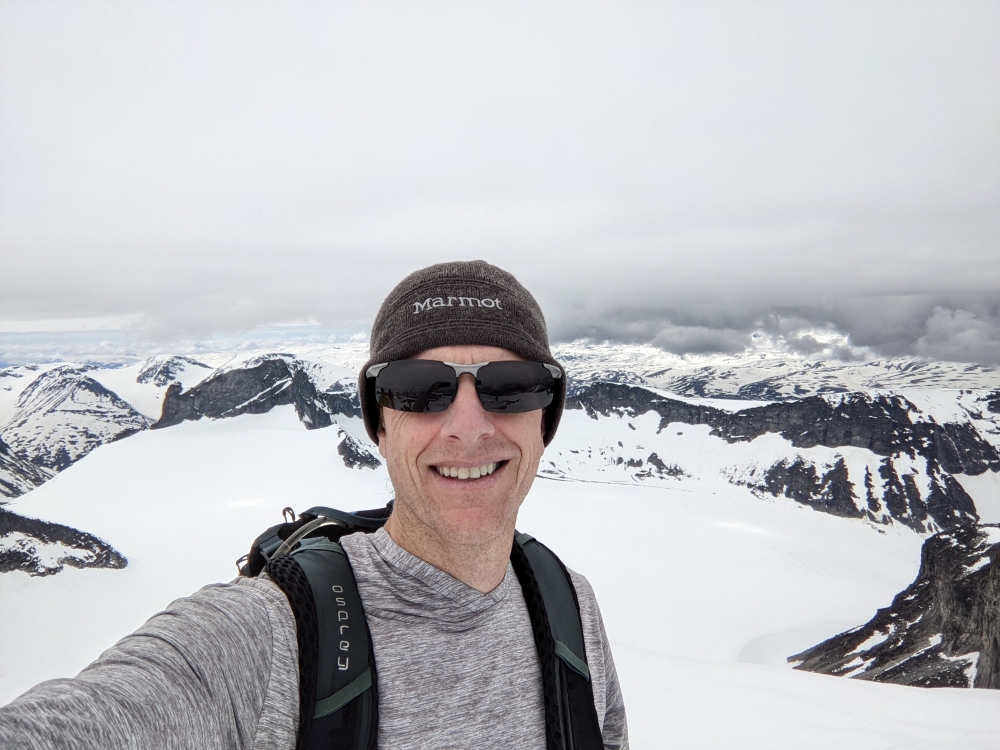 I then found a cozy rock and sat down to eat my sandwiches and snacks. About 5 minutes after I got to the summit, the guided hikers arrived. It was a group of about 50 adolescents (probably 12 years old) with their parents. They were loud and took over the summit. I ate as fast as I could then donned my rain gear with the hope that there would be spots going down when I could glissade.
I dropped off the summit and realized that the snow was getting really soft. As a result, only in the steepest sections was I able to glissade. I managed three glissades on my butt. Going down went pretty quick as I could almost jump down the mountain since the snow gave away pretty easily under me. In some spots, where there was a clearly packed snow trail, I was able to slide down on my feet. Most of the time, I still wasn't breaking through the upper layer of snow, at least until I got back to that same section I had run into earlier where I passed that couple. There, I broke through up to my hips and had to dig myself out several times while I worked my way back to the rocks. Otherwise, I was able to descend very quickly, sliding down the snow on my feet quite a bit. This clip shows how warm it was and how much the snow was melting that day:
The descent took me just over two hours.
Here's my route:
And, for anyone who is interested, some additional stats: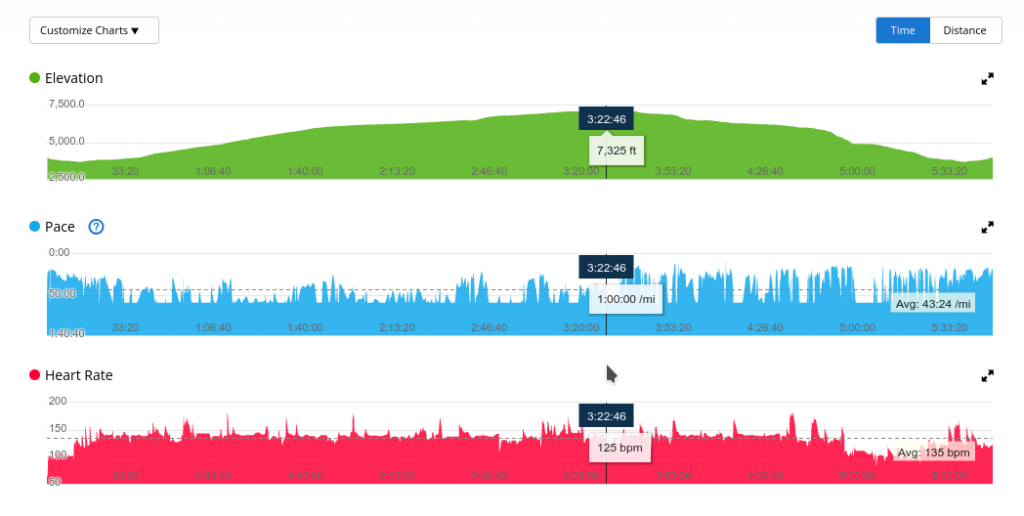 The views from the summit are really amazing. But do not underestimate this hike. It is a tough one. I would only recommend it for very experienced hikers who are in excellent physical condition.