Day 9
Sunday, June 5th, we drove from Bergen to our second AirBnB, which was located near the Sunnmørsalpane Skiarena Fjellsætra (you can ski directly to the house where we stayed). The drive took somewhere around 6 to 7 hours. It was rainy and driving in a foreign country is a bit stressful, but manageable once you figure out how people drive in Norway. (See here.) We had to stop a couple of times to charge but used those as opportunities to get food. Of course, almost everything is closed on Sundays, but we learned that some convenience stores are open and many of these have hot dogs or burgers. Toren ended up getting a massive "road burger" at one of these – two patties, bacon, cheese, etc. It was enormous and he devoured it in a couple of minutes.
Anyway, the new place was really amazing. From the cabin, we had amazing views of a mountain lake and were surrounded by mountains with no sound other than nature. It was really delightful. There were a couple of minor issues with the AirBnB: the microwave and clothes dryer didn't work. But we made do. The only other issue was that the driveway was crazy steep – like 60-degree incline steep. We made it up, but eventually stopped pulling up the driveway and parked in a different spot to avoid having to back down that crazy driveway.
Day 10
The forecast for the week suggested we'd have good weather Monday and Tuesday but that was it, so we wanted to do some hiking the first couple of days. Luckily, our schedule was very flexible with nothing pre-booked.
Our initial plan was to drive to Geiranger and do a hike there. I had plotted out a course on my phone from our AirBnB, but our car (an Audi e-tron) had different plans. When I plotted the route in the car, it decided to send us to Hylleselt and then take a ferry from there to Geiranger. That would be fine, except the ferries from Hylleselt to Geiranger are very small, require pre-booking, and are almost always filled up as that is a very scenic route. It also costs about $100 for a car. I didn't catch the change in route until we were almost to Hylleselt. Then, when we got there, we were actually the second car in line for the ferry and could have bought a ticket online, but due to a credit card snafu, I wasn't able to purchase a ticket. We were hoping we might be able to get on anyway, but that didn't happen. While we waited, we explored Hylleselt a bit and found a bunch of trails that explored the surrounding area.
We ate a quick lunch in Hylleselt (we took bread, peanut butter, honey, and jam with us on most of our excursions to make lunch), then decided to do one of the hikes we found. (NOTE: Most of these hikes don't show up on AllTrails, which reinforced that AllTrails really doesn't have most of the hikes in Norway in its database.)
The hike, if we followed it all the way to the end, would take us up to the top of a mountain overlooking the fjord. We didn't make it all the way as it was very steep. Over a mile and a half, we had about 2,000 feet of elevation gain. The views from the hike were pretty amazing and no one else was hiking where we were, which was really nice. We had great views of Hylleselt and the waterfall there and occasionally really nice views of the fjord. It ended up being a really nice hike, probably much better than the one we were going to do in Geiranger.
After the hike, we headed back to Stranda to charge the car and pick up some groceries but found out it was a holiday (Whit Monday) and all the stores were closed. We then headed back to our AirBnB and got in the hot tub to enjoy our amazing views.
Day 11
We had good weather on Tuesday as well, so we thought we'd do another hike. This one was a bit further away. The hike is to a cave with a waterfall in it called Trollkyrkja or the Troll Church Cave. This is a bit touristy and there were more people on the hike than the one the prior day, but not nearly as many as were trying to hike to Trolltunga. The hike is also pretty rugged. It was just under 6 miles round trip, with just under 2,000 feet of elevation gain. The hike starts out relatively flat from the parking area, but eventually starts uphill and continues uphill until you reach the cave. We made pretty good time and lucked out a bit. We arrived at the cave just as a large group of young adults were leaving. We only had my headlamp for light, which made for slower going, but we made do. It was really chilly in the cave, but a fun little adventure. We had to pick our way slowly through it to avoid falling into the stream that runs through the cave as well, but we made it to the waterfall at the end and were rewarded with a very pretty view.
We worked our way back out of the cave and were eating some snacks when we wandered over to an information sign by the cave entrance. As we read it, we realized that there was another waterfall and cavern that we hadn't seen. We didn't see a way to get there from inside the cave we had just explored, but we had seen some of the people who were there before us exploring around the sides of the cave. It took Toren and me a few minutes, but, if you're facing the cave, if you hike up to the right of it, you can actually see the top of the waterfall we saw and just a bit further up, there is a ladder that takes you into a second cavern with another waterfall. You can climb down into that cavern and stand right next to the waterfall. It's a little sketchy and slick in places, but doable if you're nimble.
Toren and I climbed in and explored it, then went back down to where Debi was. As we came down, I said to Debi, "There is a second cavern with a waterfall that is really cool. I can help you get into it." There were two or three other couples there who overheard us, and one woman said, "Can you help me get into it as well?" I smiled and said, "Of course." I then helped Debi and several other people into the second cavern to see this:
That second cavern really made the hike for me. The first cavern and the cave were cool, but the second one was a great bonus! Here's a photosphere of the second cavern and waterfall:
Shortly after that, we geared back up and headed down the trail. About 20 minutes from the cave, we ran into a group of people headed up. The person in the front of the group asked us how close they were. I always try to be helpful when hiking and told them they were pretty close. I also explained about the second cavern and how to get there. Just a minute after we continued hiking down, I heard someone yell out, "Hey!" I turned around and a young woman in their group said, "Are you Ryan?" I was a little anxious at this, but said, "Yes." She then said, "Ryan from Florida?" I was really surprised and got a bit creeped out. But I said, "Yes." She then said, "I can't believe we found you. We found your driver's license in the parking lot." She had looked me up online and tried to message me on Facebook (I never would have seen it as I had to accept the message and I almost never do that). She had left my license under a windshield wiper on their vehicle and told me how to find it. Phew! So lucky! And such kind people to get me my license back. (FYI, it fell out of my Mjollnir wallet that I helped fund on Indiegogo. Turns out, that Mjollnir wallet is pretty crappy. Cards fall out all the time. I replaced this when I got home.)
Here's our route:
From the Troll Church Cave, it's actually not that far to the Atlantic Ocean Road, which is a really cool stretch of road in Norway that hops across small islands right on the Atlantic Ocean. Some of the bridges are really spectacular as the bridges are curved. We drove the whole section of road in about 6 minutes, then turned around and did it again. Here's how it looks as you drive the road:
From there, we headed back to our AirBnB, a good three hours of driving, with two ferries on the way. We stopped at a grocery store for some food as well.
Day 12
As noted, the forecast in Norway is not always reliable. We were only supposed to get two days of good weather this week, but Wednesday dawned with nice weather. We had planned to do a scenic road tour this day, possibly Gamle Strynefjellsvegen, but we struggled to find information on which routes were open and which were closed. It turns out, there is a reliable website with this information.
What little information we could find suggested the Gamle Strynefjellsvegen scenic drive was closed, so we decided to go to Trollstigen, thinking that this very popular scenic drive had to be open. Yeah, not so much. Our first indication it was closed was a digital sign we passed on our way that indicated it was closed. We saw one more but kept going hoping that wasn't the case. While we drove, I had Debi look for information online. She ended up finding a post on Facebook from a tour company indicating that Trollstigen was going to open 24 hours after we drove there. We ended up driving all the way to where the road was closed with a gate, which was 7 kilometers from the top of Trollstigen. It was really scenic and not a horribly long drive anyway. We debated walking the 7 kilometers from where we stopped to see it, but it was a bit cloudy and we decided not to.
On the way to Trollstigen, we drove past what looked like a cute little waterfall, Gudbrandsjuvet, but didn't stop. Here's what we could see from the road:
With time now that Trollstigen was a bust, we decided to stop and check it out. Turns out, Gudbrandsjuvt is amazing! Yes, there are some waterfalls here, but the really cool feature is where the water has carved through the rocks.
It turns out that we drove right over this amazing feature and didn't even realize it as you can't see it from the bridge. But there is a really nice walkway through this area that allows you to see the amazing waterfalls and narrow canyons where the water runs.
We ended up walking around the area for a good 45 minutes. Here's a photosphere of the area:
As an added bonus, there is a very cute cafe that overlooks the waterfalls. We ended up getting a kanel bolle (cinnamon roll) and some local goat's milk ice cream (vanilla and brunost or brown cheese flavored) and enjoyed the view from inside the cafe for a while as well. It was actually very nice to have a flexible schedule where we could just hang out at a cool cafe for a while and enjoy the amazing views.
As one additional bonus, on our way back home, we drove through a small town called Sylte (or Valldall). As we did, I saw a sign for a bowling alley and Debi got online to see what else there was to do in Sylte and the surrounding area for the coming rainy days. We found something amazing: a troll dungeon escape room! (More on this below).
We headed back to the AirBnB after our adventures and had a relaxing evening.
Day 13
With the forecast changing from day to day, Thursday actually looked like good weather. Debi and Toren were nice enough to give me the whole day to go do a big hike, Galdhopiggen, which is the tallest mountain in Norway. I wrote up a report on the hike here. But here is a photosphere from the summit:
While I was off doing a crazy hike, Debi and Toren relaxed, played games, watched shows, and got in the hot tub.
Day 14
After my brutal hike the day before, and with the weather not particularly great (it rained on and off all day), we took Friday off and stayed at the cabin the whole time. We ended up watching three Star Trek movies, played some games, got in the hot tub, and relaxed. It was really nice.
Day 15
The forecast for this Saturday was somewhat mixed, but we figured we'd give Trollstigen another try since it was now officially open. We're glad we did as it really is impressive. It took us about an hour and 30 minutes to get to the top of Trollstigen. There are some amazing paths up there that offer stellar views of the switchbacks and the valley. We took our time enjoying the views:
There was even a spot where you could get in the river if you wanted. I told Toren I'd give him $20 if he did. So, of course, he did:
This was all at the top of Trollstigen. We then hopped in the car and drove down the switchbacks, which was a bit of an adventure in itself. But we made it. And the view from the bottom is almost as good as the view from the top as you can see the waterfalls from the bottom:
Of course, our way back meant going back up the switchbacks, so I got to drive them a second time. Luckily, there were not lots of cars passing me on the way back up.
After Trollstigen, we headed back to Sylte/Valldall where we had booked a visit to an escape room called Troll Dungeon. None of us had done an escape room before, let alone one in Norway, but we thought it would be a nice way to spend a rainy day in Norway. We actually got there very early, so we found some nice picnic benches right on the fjord and ate lunch, then went for a walk around Sylte (literally, all the way around the town). Along the way, we found this seesaw that Debi and Toren took advantage of:
Even with our break for lunch and our stroll around Sylte, we arrived almost an hour early for the Troll Dungeon. (FYI, if you go, it's behind the bowling alley.) Luckily, the owner was there and ready for us. She informed us that they had opened the previous summer and that we would be the first people from outside Norway and the first English speakers to go through the dungeon. It's not a standard escape room; it's more like an escape room combined with a labyrinth. You have to solve puzzles and work your way through a maze in a really dark setting. There are also a couple of animated creatures and she did do a jump scare on us. She said it usually takes 30 to 40 minutes to get through it. We needed a little help at the end as we didn't pay attention to one thing so we couldn't get out, but we made it through the whole thing in about 22 minutes. We thought it was fun and hilarious and quite a memorable component of our Norwegian trip.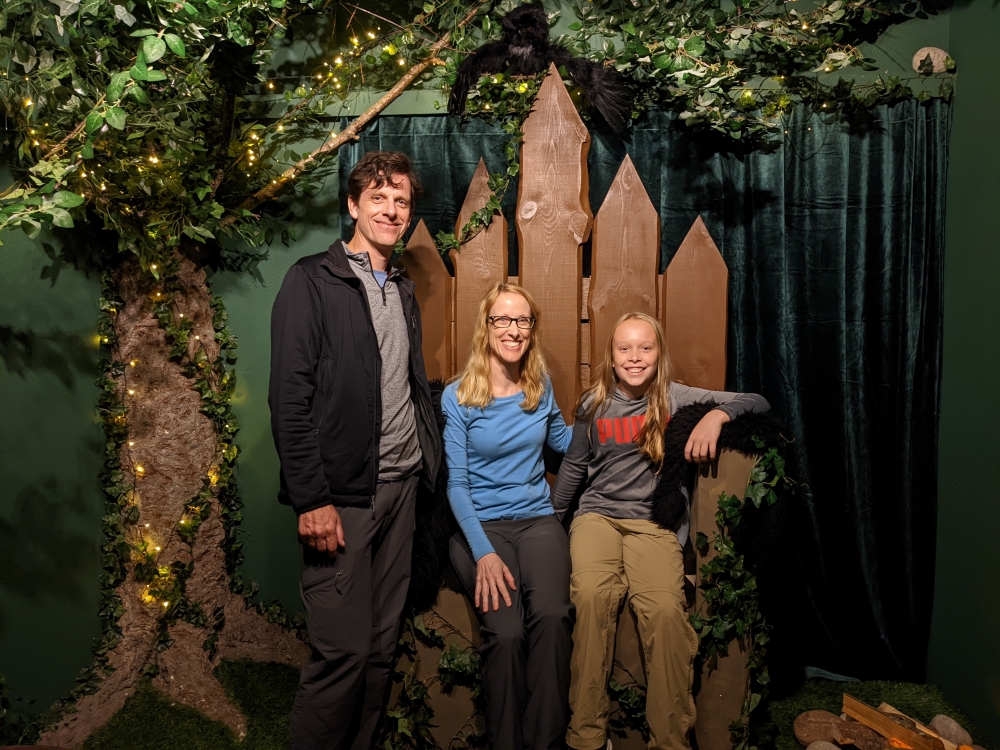 Day 16
Sunday dawned fairly rainy, but we decided to go on a road trip. Debi had read that Alesund was very scenic, so we decided to drive into Alesund. We're glad we did as it is very pretty. We actually had a good two-hour window without rain to explore Alesund. We drove in, parked, and walked through downtown. We eventually made our way to Fjellstua, which is a beautiful little hike up to a restaurant that overlooks the city. There is also a viewing platform up there that is supposed to be open only to guests. We hiked up the steps, took some photos, and even got another bolle (cinnamon roll) in the restaurant to enjoy the views.
After we hiked back down, the weather started to get worse, so we worked our way back to the car, enjoying the pretty streets and buildings. Just before we got to our car, we got a nasty downpour. We then headed back to our AirBnB for another relaxing evening and some packing before we had to head out.
Day 17
On Monday, it was time to start the journey back to Tampa. We had packed most everything the night before, so we got up, finished packing, ate breakfast, cleaned, and loaded up the car for the 6 to 8-hour drive to our hotel in Bergen. It rained all day, which added a bit of stress to the driving.
The only eventful thing that really happened was when we stopped to charge. There were three chargers there, but two of them were 150 kw chargers (the two on the ends) and the one in the middle was a 50 kw charger, which takes a lot longer to charge. When we pulled up, all three were taken. So, we backed into a spot across from the chargers to wait. The middle car finished first and pulled out, but we didn't want that charger. So, we waited. A woman then pulled into that spot and it looked like she started to charge her car. A few minutes later, a car on one of the ends pulled out, so we pulled in. As we did so, the woman in the middle went up to our charger, pulled the cable out, and inserted it into her car and started charging on the 150 kw charger that I was clearly going to use. Argh! What an asshole! She stole the charger from me, knew it, and then did her best to avoid looking at me as I shot daggers at her with my eyes. We ended up waiting another 20 minutes until the other driver was done before we could charge. Most of the people we met in Norway were delightful. That woman is a jerk!
Anyway, it took us almost 8 hours to get to the hotel. The hotel was right by the airport, so we could get up with plenty of time to make it to the airport for our flight in the morning. It was a cool hotel, with foosball, pool/billiards, and shuffleboard games in the lobby. We took advantage of all of these, of course. Also, when we checked in, we headed up to our room to find just two singles in the center of the room. I knew we had booked a room that could fit the three of us, so we headed back to the front desk. The woman at the front desk quickly realized our issue and said, "The bunk beds fold out of the wall." We went back up and, sure enough, there were two beds hidden in the wall.
Also, we bought COVID tests before we headed to Norway that included having an online service watch you take them so they can provide an official report on your test. We ended up not needing these as the CDC dropped the negative COVID test as of Sunday night. Yes, money wasted, but I'd rather that then have to deal with positive COVID tests (none of us had symptoms, so it probably would not have mattered, but you never know).
Day 18
Tuesday dawned rainy as well, but we were flying all day, so not a big deal. Our hotel included breakfast, which was nice. We packed up and loaded the car, then headed to breakfast. As we walked into the dining area, I noted a middle-aged man sitting by himself at a table everyone had to pass as they walked in who was coughing up a storm and not covering his mouth at all. I remember very clearly thinking to myself, "That guy probably has COVID and is going to give it to everyone here." Turns out, I was probably right. Debi came down with COVID the Friday after we got home.
Anyway, we returned our rental car, dropped off our bags, and prepared for our three flights – Bergen to Oslo, Oslo to Reykjavik, and Reykjavik to JFK. The flights were pretty uneventful. In New York, our flight to Tampa left the next day, so we had a hotel for that night right by the airport. We booked that hotel because it had a pool, so Toren could swim one more time on our trip. They didn't mention on their website that their pool was closed due to COVID! Ugh.
Day 19
We got up, packed up, and had breakfast at the hotel before heading to the airport for our flight home. That was relatively uneventful as well. But as soon as we walked out of the airport in Tampa, we knew we were no longer in Norway and immediately started to shed layers. It is soo hot here!!!
That wraps up the trip. Norway was delightful. It is a beautiful country. We saw just a tiny sliver of it but enjoyed every bit of it.